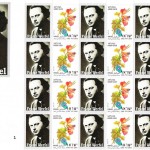 The International Raoul Wallenberg Foundation is dedicated to develop educational programs and public awareness campaigns on the Saviors of the Holocaust. It is named after Swedish diplomat Raoul Wallenberg missing since January 1945 after saving the lives of tens of thousands of Jews and other persecuted during World War II..
The Foundation has issued new commemorative stamp dedicated to the memory and literary legacy of Franz Werfel.
Franz Werfel (1890-1945), Austrian poet, modernist playwright, and novelist, was born in Prague, the son of a Jewish merchant. During World War I, Werfel served for several years on the Russian front as a soldier in the Austrian army. A friend of authors Max Brod and Franz Kafka, Werfel later moved to Vienna and Berlin. He was forced to leave the Prussian Academy of the Arts in 1933. His 1933 novel, Die vierzig Tage des Musa Dagh (The Forty Days of Musa Dagh), detailed the mass murder and expulsion of Armenians from eastern Anatolia in 1915 and received much attention in the United States. It stood as a warning against future acts of mass murder and won lasting respect from Armenian communities throughout the world.
Werfel's books were burned by the Nazis as those of a Jewish author who advocated pacifism, love for all mankind, and hostility to extreme nationalism and Nazism. Werfel had to flee Austria after the German annexation. He then escaped from France by hiding in the Catholic sanctuary of Lourdes, crossing the Pyrenees on foot to safety in Spain, and leaving from there for the United States. With gratitude for his sanctuary at Lourdes in mind, he wrote the best-selling novel, The Song of Bernadette. Though he remained a Jew all of his life, Werfel was attracted to many aspects of Catholicism.