YEREVAN — The standoff between riot police and demonstrators protesting a hike in electricity prices is blocking the central avenue in the Armenia's capital, Yerevan, for the third day running.
Hundreds of mostly young activists spent a second night on Marshal Bagramian Avenue in a continuing standoff with riot police deployed nearby to prevent them from marching to the presidential palace in the Armenian capital. Most of them stayed behind a row of large trash containers they placed across the road as a barricade.
A group of Armenian opposition parliamentarians and well-known public figures stood between the protesters and rows of police officers through the night in an effort to prevent another forcible dispersal of the crowd.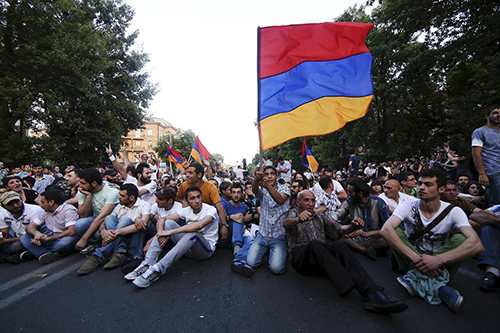 A leader of "No To Plunder" non-partisan youth movement, Vaghinak Shushanian, said the protests will continue until the Armenian authorities revoke a decision by state regulators to raise electricity prices by more than 16 percent. He said the police crackdown only increased the number of people attending its rallies.
"We are not in a hurry," Shushanian told RFE/RL's Armenian service (Azatutyun.am). "We have one month and ten days."
The new energy tariffs set by the Public Services Regulatory Commission last week are supposed to take effect on August 1.