NEW YORK — "From Sacred Wrath," a play about an Armenian-American family grappling with the legacy of 1915, performed two sold-out shows at the Davenport Theatre in New York City last April during the month of genocide awareness.
The timely play, written and directed by Taleen Babayan, reflects the various outlooks and struggles facing Armenians around the world in this centennial year of the Armenian Genocide.
The story was brought to life on stage through the cast of diverse and professional actors including Karnig Nercessian, playing the role of Hovsep, the patriotic patriarch of the family; Constance Cooper as Aghavni, an Armenian Genocide survivor; Ani Djirdjirian as Areni, a history teacher who has a modern outlook of reconciliation; Raffi Wartanian as Soghomon, an American-born Armenian who feels a desire to return to his homeland; Cihangir Duman as Cemal, a Turkish journalist who is unable to call the Armenian massacres a genocide; Jamie Alana as Ayesha, a Darfur Genocide survivor; and Haig Hovnanian as Alex, a childhood friend of the family's.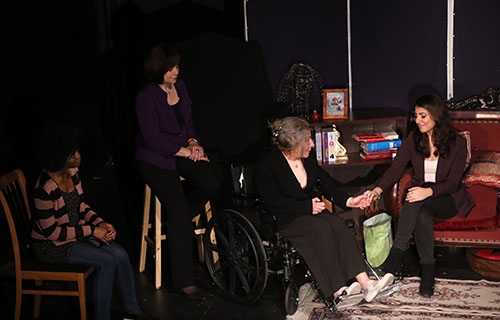 "Sharing the stage with so many gifted performers was beyond rewarding, as was working on a script that allowed us to question the identity paradigms that have come to define modern Armenian life," said Wartanian, who is a performer, writer and musician.
Babayan was the recipient of three grants to stage the production, including awards from the Dadourian Foundation, the Mabel Fenner Scholarship and the Armenian Youth Foundation.
"From Sacred Wrath" has started a cross cultural dialogue that has the potential to be the starting point for great change in society," said Alana, a graduate of The Actors Studio Drama School. "There are no villains in this play, only people. People have the power to create unity even when nations, cultures and ethnic groups cannot. With this play we were able to create unity on stage and unity in the audience."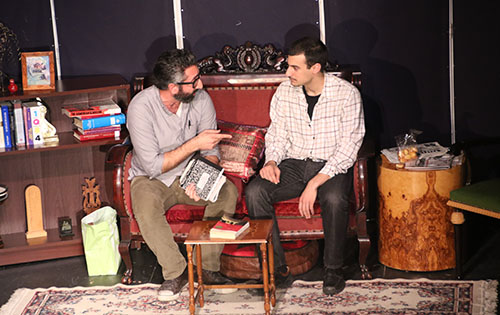 The two performances appealed to audiences beyond the Armenian community, and drew people of diverse age groups and backgrounds.
"It was an amazing feat to manage to combine and present the ever prevalent Diasporan issues in such a moving and visceral way all in one package," said audience member Karén Tonoyan. "I hope this play gets staged many more times because it deserves to be seen by many more audiences."
"From Sacred Wrath" is Babayan's second play. Her debut work, "Where is Your Groom?" (Pesad Oor Eh)—a comedic story that follows an Armenian-American family's desire to preserve their ties while living in the Diaspora—has performed for seven Armenian communities across the country. Upcoming performances are scheduled in New York and Florida.
"Taleen Babayan's insightful writing has captured a 'slice of life' from the Armenian Diaspora reality with its players, points of view, and issues all rolled very successfully into one entertaining and informative stage production," said Armani, actress and artistic founder of the SR Socially Relevant Film Festival. "Taleen not only has a deep understanding of Armenian issues, but knows how to contextualize them within a larger universal paradigm. I feel honored to have been part of this production and shared the stage with a talented cast."