YEREVAN — Prime Minister Hovik Abrahamian on Thursday expressed concern at the worsening security situation in Aleppo and reaffirmed his government's readiness to help transport Syrian Armenian children to Armenia and take care of them there, but stopped short of calling for a mass evacuation of thousands of ethnic Armenians remaining in the war-ravaged Syrian city.
"We had an alert about moving children and schoolchildren out of the war zone, which I responded saying that the government, the state are ready to properly accept and provide necessary conditions for children moving from Aleppo to Armenia," Abrahamian said and ordered responsible bodies to provide detailed information about the situation at the next meeting.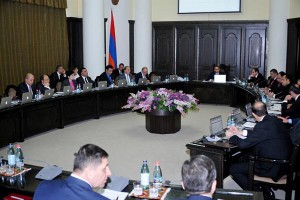 Addressing members of his cabinet, Abrahamian also said the government will discuss the situation in Aleppo in detail at its next meeting slated for May 14. Diaspora Minister Hranush Hakobian will speak about "what steps are taken by her ministry, what the government can do and how we can help," he said.
News about Armenian districts of Aleppo being bombed again during the last month created concerns about the four-year long Syrian conflict. Fighting in and around Syria's largest city has intensified, leading to calls for official Yerevan to help the remaining local Armenians take refuge in Armenia. Syrian Armenian leaders have spoken out against a mass evacuation, however, saying that they still hope to preserve the once thriving community that has for decades been mostly concentrated in Aleppo.
Some Syrian Armenian refugees in Armenia strongly disagree with the community leadership's stance, saying that deadly fighting between Syrian government troops and Islamist rebels poses a growing security risk to the local Armenian population.
On Wednesday Aleppo Patriotic Charity Organization announced that many Armenians from Aleppo have approached the organization for help to purchase one-way tickets to Armenia.
According to the organization, a one-way ticket costs about $488. The organization is accepting on-line and bank transfer donations.
"We should not trust any party, organization or community leadership. We just need to save the Aleppo Armenians because their plight is terrible," one of them, Hrayr Akvilian, told RFE/RL's Armenian service (Azatutyun.am).
"My aunt and my father's relatives are still there," said another Syrian Armenian in Yerevan. "My aunt had a private clinic while her husband had a job. They both have lost their livelihoods."
"Living conditions there are very bad," added the Aleppo-born woman. "Many are barely managing to get by."