PARIS — Posters commemorating the Armenian Genocide and covering the exhibition of the Genocide centennial at the Shoah memorial were installed in Paris subway.
The exhibition opening on April 2 was attended by Armenian ambassador Vigen Chitechian, memorial president Éric de Rothschild, officials, historian Ives Ternon and Clair Mouradian.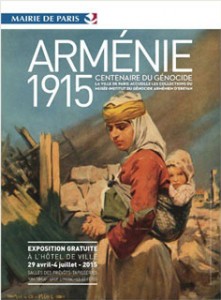 Another exhibition is scheduled to open in Paris titled "Armenia 1915: Paris hosts collection of Armenian Genocide Museum-Institute" from April 29 through July 4 commemorating the Armenian Genocide centennial. Paris City Hall will install more than 1000 billboards covering the event. The exhibition will feature hundreds of documents, photos and other exhibits.
The exhibits are from the archives of Armenian Genocide Museum-Institute (AGMI) and Bibliothèque Nubar of Paris. A special section will be dedicated to Aurora Mardinaian's biography.
The event is organized by Paris city administration in cooperation with AGMI, the Armenian Embassy, Yerevan municipality, coordination council of Armenian organizations of France (CCAF) and the regional commission of France on the coordination of events dedicated to the Armenian Genocide centennial.
On April 28, Paris mayor Anne Hidalgo will hold the opening ceremony attended by French and Armenian high-ranking officials.