LOS ANGELES – On February 24, 2015 at 6:30 pm, the Armenian General Benevolent Union and the Armenian Society of Los Angeles will jointly host an event of great interest at the ASLA Center on 117 South Louise Street in Glendale, CA 91205. Ms. Arina Zohrabian, Director of Admission at the American University of Armenia (AUA), will make a special presentation to the Armenian community about the educational opportunities available at AUA, which will be followed by a Questions-Answers session and a reception. The event is open to the general public.
Ms. Zohrabian's presentation will highlight the exceptional classes and cultural programs AUA has to offer at a fraction of the cost compared to universities in the United States. At AUA, students have the advantage of getting their education from a University of California (UC) affiliated institution. Furthermore, AUA is accredited by the WASC Senior College and University Commission, which is the accrediting commission for most universities on the West Coast of the United States. The UC affiliation and WASC accreditation make it easy to transfer credits for AUA courses to universities in the United States.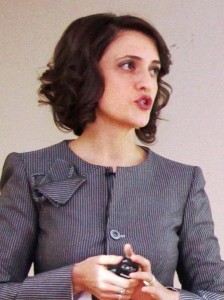 AUA offers 8 master's and 3 undergraduate degree programs. Of the more than 1,200 current students, over 10 percent are from outside Armenia, and this percentage is growing every year. Students enjoy the university's many research centers and state-of-the-art facilities, including the newly renovated AGBU Papazian Library and the modern Paramaz Avedisian Building with fully equipped classrooms.
Whether students are interested in getting a four-year degree or simply wish to study abroad for a summer, semester or year, AUA has excellent study programs to offer. The newly announced AUA-UCLA joint summer intensive program in Armenian Studies provides the ideal experience for students who wish to completely immerse themselves in Armenian language, history and culture.
Ms. Zohrabian's presentation at the ASLA Center is part of a much larger recruitment tour that AUA is making throughout California from February 15 to March 1. Ms. Zohrabian will be making stops at high schools and colleges in the San Francisco Bay Area, Fresno and Southern California. The tour will also include meetings with Armenian churches, community members, and various chapters of the Armenian Student Association. The gathering at the ASLA Center provides an ideal opportunity to members of the community at large, particularly parents of prospective students, to learn about the educational opportunities offered by AUA. At this event, Ms. Zohrabian will talk about the AUA degree programs, study-abroad opportunities, and the requirements for application and admission.
Arina Zohrabian manages the strategy and operations for undergraduate and graduate admissions, national and global outreach, and international student services at AUA. Previously, she served as the Regional Director for Education Programs and Country Director for the International Research & Exchanges Board (IREX) Armenia office, managing and implementing higher education programs funded by the US Department of State and other private sources. Ms. Zohrabian, whose parents hail from Isfahan, moved to Yerevan in 2002 as a volunteer. What was meant to be a one year trip evolved into a life changing experience.
For more information about the event please contact Shake Toumayan at the AGBU office, (626) 794-7942, or ASLA at (818) 241-1073. To learn more about admission to AUA, please visit http://admissions.aua.am. You may also visit the AUA website at www.aua.am for more information about the university.