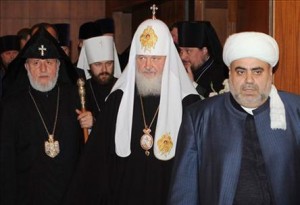 YEREVAN — The top religious leaders of Armenia, Azerbaijan and Russia have called for a withdrawal of snipers from Karabakh frontlines as a means to stop bloodshed amid more reported casualties in the conflict zone.
Patriarch of Moscow and All-Russia Kirill read out the statement that he made jointly with Catholicos Karekin II, the supreme head of the Armenian Apostolic Church, and Azerbaijan's top Shia Muslim leader Sheikh-ul-Islam Allahshukur Pashazade at the end of a trilateral meeting in Yerevan held as part of a summit of top clerics from post-Soviet countries.
"The three parties express their commitment to the peaceful settlement of the Karabakh conflict and declare that the settlement is possible only within the framework of international law. In that regard we support the OSCE Minsk Group efforts," the declaration reads.
Armenia, as well as international mediators, have repeatedly called for a bilateral withdrawal of snipers to reduce deadly ceasefire violations reported along the Armenian-Azerbaijani "line of contact" on a regular basis and blamed by both sides on each other.
The military authorities in Armenia and Karabakh reiterated their readiness to withdraw snipers from the frontline positions also following the reported deaths of two Armenian soldiers near Karabakh on November 19 and 20 by sniper fire from Azerbaijani army positions. They stressed, however, that they cannot do so unilaterally.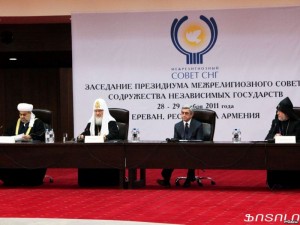 President Sarkisian also attended the Monday proceedings of the religious summit in Yerevan, calling for a Karabakh conflict settlement to be achieved "through contacts, negotiations and cooperation, rather than through the escalation of tensions and threats."
"We were ready to stretch our hand of friendship first even at the time when we weren't sure that we would get an adequate answer," said Sarkisian, reaffirming Armenia's commitment to solve the conflict peacefully, through negotiations being mediated by the Organization for Security and Cooperation in Europe's (OSCE) Minsk Group.
Sarkisian also called inadmissible destroying historical, cultural and spiritual monuments under the guise of religious differences.
"In front of this prominent audience, on behalf of the Republic of Armenia, I reaffirm our commitment to conserve and, if necessary, restore all such values," Sarkisian said.