BURBANK — "The First Refuge and the Last Defense: The Armenian Church, Etchmiadzin, and the Armenian Genocide" was the title of Dr. Roben Adalian's exhibit which was presented at the Zorayan Museum of the Western Diocese on February 18th and 19th at 8:00 p.m.
More than 160 guests were in attendance on the opening night of the exhibition. On behalf of the Zorayan Museum Committee, Vice-Chair Mrs. Lena Simonian welcomed the guests and acknowledged the presence of His Eminence Archbishop Vatche Hovsepian, the reverend clergy, and Mr. Antranik Zorayan, the benefactor of the Zorayan Museum. Mrs. Simonian reflected on the number of exhibitions that had been on display at the Museum throughout the years including those of Pinajian, Carzou, Karanfilian and others.
Rev. Fr. Khajag Shahbazyan read the message of the Diocesan Primate Archbishop Hovnan Derderian commending the invaluable contributions of Dr. Rouben Adalian towards the recognition of the Armenian Genocide in his capacity as the Director of the Armenian National Institute in Washington, D.C.
Remarks were also delivered by Rev. Fr. Vazken Movsesian, the Chair of the Centennial Commemoration Committee of the Western Diocese. "Today's exhibition is a testament of God's divine love and the indomitable spirit of the Armenian people. We are the torchbearers of the legacy of our 1.5 million fallen ancestors. They were martyred for their Christian Faith. Today, we pay homage to their memory with great reverence," stated Rev. Fr. Movsesian. The Rev. Fr. then introduced Dr. Adalian, the lecturer of the evening.
The Director of the Armenian National Institute expressed his gratitude to the Primate and the members of the Zorayan Committee for the warm welcome and gracious hospitality.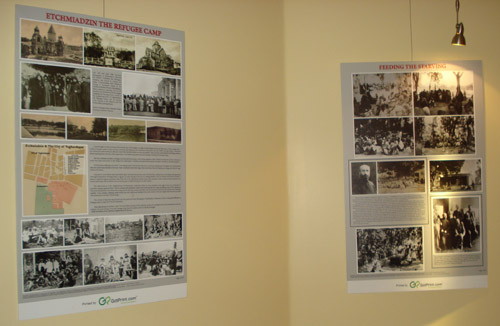 In his lecture, Dr. Adalian spoke in great detail about the influential role of H.H. Gevorg V Surenyants, the 127th Catholicos of All Armenians in voicing the injustice perpetrated against the Armenian people. During the Armenian Genocide, the Head of the Armenian Apostolic Church sent numerous letters to world leaders informing them about the catastrophic events taking place in Western Armenia. His Holiness, with the assistance of the intellectual community, was instrumental in transforming the Gevorkian Theological Seminary into a hospital and later, an orphanage for those starving, ailing, diseased refugees from the City of Van who had somehow managed to escape the horror of the Armenian Genocide.
Following his lecture, Dr. Adalian answered questions from the audience.
Consisting of 20 panels with over 150 historic photographs documenting the role of the Armenian Church during the Armenian Genocide, the exhibit was created by the Armenian National Institute (ANI), the Armenian Genocide Museum of America (AGMA) and Armenian Assembly of America jointly, and in cooperation with the Mother See of Holy Etchmiadzin, the Armenian Genocide Museum Institute in Yerevan, and the Republic of Armenia National Archives.