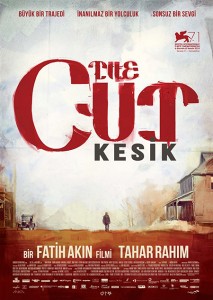 ISTANBUL — The premiere of Turkish-German filmmaker Fatih Akin's movie, "The Cut," was held in Istanbul under heavy security. It hits Turkish movie theaters on Dec. 5.
The premiere of the movie was attended by a number of celebrities. Prominent Armenian photographer from Constantinople Ara Güler was also present at the event. Akin was accompanied by seven bodyguards.
As Akin's first movie in English, "The Cut" centers on an Armenian father who travels from the 1915 Ottoman Empire to the U.S. in search of his daughters.
The 138-minute drama stars French actor of Algerian descent Tahar Rahim who is best known for his role in the 2009 award-winning French movie "A Prophet," as well as French-Moroccan singer and actress Hindi Zahra, French-Armenian actor Simon Abjarian and Turkish actor Bartu Küçükçaglayan.
Along with Akin, Armenian-American screenwriter Mardik Martin, who has also worked with legendary filmmaker Martin Scorsese, penned the screenplay of the drama.
"I know very well that Turks would not accept a film about an Armenian hero. This is why I used the genocide of Native Americans to develop empathy with them," Akin has said about the film.
The film, which competed for the coveted Golden Lion award at the 71st Venice Film Festival, had an estimated budget of 16 million euros, according to the website imdb.com.