A part of the Tavush region rests in a precarious geographic position, far from large cities, hard to access by road, and surrounded by an enemy that regularly takes aim at civilians. Armenia Fund fully renovated the hospital in Noyemberyan, accessible by all in this region, so people there could have access to quality medical care and facilities.
Armenia may not have a sea but the towns of Barekamavan and Koti are on a peninsula. They are located on a piece of land that is surrounded on three sides – to the north, east, and south – by Azerbaijan. The strenuous circumstances under which these people live is hard to overestimate – and they're not the only ones. Besides the regular firing on unarmed civilians by Azerbaijani military, they have little access to the outside world. Several neighboring towns share the same problems in this remote corner of northwest Armenia, in the Tavush region, even though they are not as surrounded.
Remoteness presents several problems, including making it difficult for these farmers to get their produce to larger markets. What is usually more urgent for area residents, however, is getting the medical care they need when they need it.
The hospital in Noyemberyan – a regional hub that is not far from Barekamavan, Koti, and several other small towns scattered along the border – was established 80 years ago but its current structure was built in 1961. Since then, no repairs and little maintenance had taken place and the state of the facility had rendered it into little more than a holding area until patients could be transferred to a more capable healthcare center. The next closest, in Ijevan, is over 60 miles away, while the main healthcare hub in the country, Yerevan, is over 120 miles away. Access to these places is further complicated by the mountainous serpentine roads throughout Tavush.
Taking into account the critical importance of the Noyemberyan Hospital to regional well-being, Armenia Fund developed a comprehensive plan to renovate the facility. The objective was to transform the hospital into a modern and functioning healthcare hub that could deal with most medical issues on site. The hospital now complete, that has been achieved.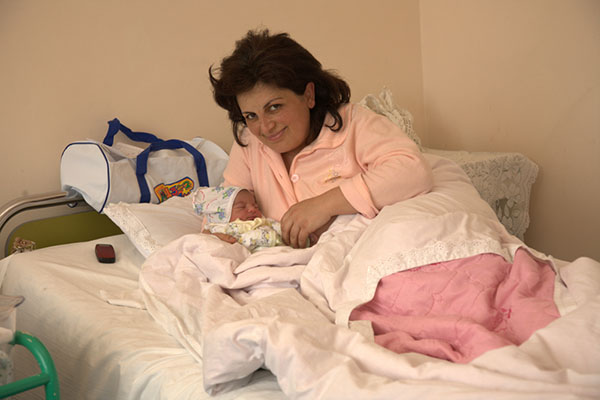 The fully renovated facility includes 30 patient rooms and 60 beds. It is divided into several areas and includes a general clinic with a physiotherapy wing, an intensive care unit, and an emergency room. It also houses departments of various specializations including surgery, gynecology, infectious diseases, and obstetrics. There is a dental clinic, as well.
There are 113 staff members working in the building and 1,400 patients, on average. The lighter and more encouraging side are babies: 400 of them are born annually in this hospital.
So, after several decades where the hospital had fallen into disrepair, this town with a history of over 1,000 years got a new medical facility to serve their needs and those in the villages around them.
The hospital does not solve the problem of having an enemy across the border who believes it is acceptable to shoot innocent civilians. But, it does take a step toward realizing the belief that no Armenian, particularly those who are bravely living and working in border villages, have to suffer due to lack of healthcare. With the help of people like you, Armenia Fund was able to take that step and Barekamavan, Koti, Noyemberyan are better for it – and by extension, so is Armenia.