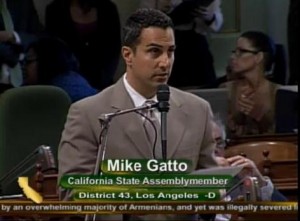 SACRAMENTO—The California State Assembly, on Thursday, May 8th, 2014, passed Assembly Joint Resolution 32, with a landslide victory of 70 ayes and only 1 no vote, introduced by Assemblymember Mike Gatto (D-Los Angeles), making California the most populous governmental entity to recognize Nagorno-Karabakh and calls for the United States to recognize the Nagorno-Karabakh Republic as a sovereign state, invoking strong language from the United States' own history regarding the rights of the people to "self-determination and democratic independence."
"It has been my privilege to work with the leaders of the local Armenian American community and their outstanding representatives on this Resolution and I am proud to announce that it has passed on the Assembly Floor," said Assemblymember Gatto.
"As Californians, we have always been proud of our State's record reinforcing the principles of democracy and the right to self-determination. Yet, until today, California was lagging behind other States who have passed similar Resolutions to AJR 32," stated Sevak Khatchadorian, Chair of the Armenian Council of America. "With the passage of AJR 32, California stands by the people of Artsakh, who advocate democracy based on and ideals of freedom and the pursuit of happiness."
Along with the primary author, Assemblymember Gatto, AJR 32 was co-authored by Assemblymembers; Katcho Achadjian (R-San Luis Obispo), Raul Bocanegra (D-Pacoima), Cheryl R. Brown (D-San Bernardino), Ian Calderon (D-Whittier) , Matt Dababneh (D-Encino), Brian Nestande (R-Palm Desert), Kristin Olsen (R-Modesto), and Jim Patterson (R-Fresno).
California has become the fifth U.S. state – after Rhode Island, Massachusetts, Maine and Louisiana – to recognize the independence of Nagorno-Karabakh.
A full text of AJR 32 can be found here.
The Armenian Council of America is a grassroots organization dedicated to working with all political leaders, offering Armenian related news, analysis and resources for policymakers, media, students and activists, advocating issues important to Armenian Americans. The Armenian Council of America aims to strengthen U.S. – Armenia and U.S. – Nagorno Karabakh ties, the development of programs promoting sustainable economic growth and good governance in Armenia, while promoting the values and responsibilities of global citizenship.