NEW MILFORD, NJ – Dikranagerdtsis present a benefit evening to raise funds for the restoration efforts of the St. Giragos Church in Dikranagerd, Turkey on Saturday evening, May 17 at the Hovnanian Banquet Hall in New Milford, New Jersey.
The evening will be under the auspices of His Eminence Archbishop Khajam Barsamian, Primate of the Eastern Diocese, and will feature traditional Armenian music by Udi Yervant, who will be traveling straight from Dikranagerd to perform, as well as local oud player Mike Uzatmajian.
One of the most significant works in Armenian architecture, St. Giragos is the largest Armenian Church in the Middle East. The church, which remains in the possession of the Armenian community, under the jurisdiction of the Patriarchate of Istanbul, Turkey, was originally constructed in the 15th century and was rebuilt and enlarged in the 19th century after a fire. The first bell tower of the church was built in 1884 (cast by the world famous Zildjian Company), making it the tallest structure in Dikranagerd. Renowned for having seven altars signifying 'eternity' in the Armenian alphabet, the church can accommodate more than 2,500 faithful during services.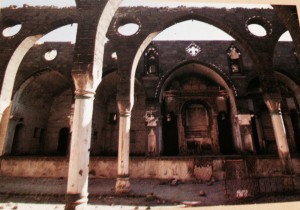 The church was damaged in 1915 at the start of the Armenian Genocide and was later used as a headquarters by German officers during World War I and then as a warehouse until the 1950s when the few Armenians left in Dikranagerd continued to worship in the chapel in the courtyard of St. Giragos. This small community managed to regroup and reopened the church for use by the Armenian community in 1960, although the structure had become severely dilapidated.
A group of concerned parishioners, led by Vasken Ergun Ayik, St. Giragos Parish Council Chairman, stepped in six years ago to begin restoration on the church. Through fundraising events by the St. Giragos Parish Council and Dikranagerdtsis worldwide, two and a half million dollars has been raised thus far. Ayik will be in attendance at the Benefit Evening to deliver updates on the progress of the fundraising and renovations.
"The St. Giragos Church is the first church in Anatolia to be restored by Armenians," said Ayik, who noted that the community refused to hand over ownership of the church to the Turkish ministry in return for its support because St. Giragos would have opened as a museum. "This church is the heritage of all humanity."
The Benefit Night will take place on Saturday, May 17 at 7:30 pm at Hovnanian Banquet Hall, 817 River Road, New Milford, New Jersey. Donation $80. For reservations, please call: Hirant Gulian at 212-764-8730, Zivart Gulian at 201-906-0553, Ruby Gulian at 201-313-1762 or Sonya Bekarian at 201-315-5916.
Taleen Babayan
Photo credit: George Aghjanian