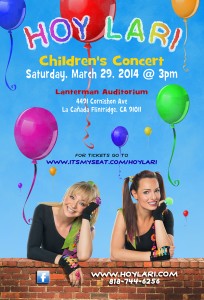 It's time for Hoy Lari's highly anticipated annual concert in Los Angeles, CA for kids ages 1 to 10. Only one performance will take place on Saturday, March 29, 2014 at Lanterman Auditorium in La Canada Flintridge at 3:00 pm.
Hoy Lari is Paola Kassabian and Janet Yetenekian. Together, they form a dynamic duo captivating kids of all ages. Hoy Lari has been inspiring kids to use their imagination and to always dance and have fun. The music is designed to encourage them to sing in Armenian and develop the Armenian language in their formative years. The songs instill in kids the appreciation for family, friends and our community.
Hoy Lari's albums, Jamanagn eh, Donenk, Getseh Pokreegner and Khaghaloo as well as their DVDs entitled Yerevagayenk and Live in Concert have received much praise and popularity from children and parents all over the world. All are available at www.hoylari.comand Armenian retailers.
Hoy Lari's brand new, interactive performance will feature dazzling visual and lighting effects to go along with favorite songs such as "Khaghaloo", "Visho", "Jamanagn Eh" and "5 Gabeegner". The entire family will join in to sing, dance, clap and have a blast. For more information, go to www.hoylari.com. To purchase tickets, go to www.itsmyseat.com . For questions call (818) 744-6256.