SYDNEY, AUSTRALIA – Ryde Regional Radio (2RRR), congratulated its Sunday evening Armenian Program for turning 25 years old. "This is an amazing feat for a program. The 2RRR team and all our volunteers would like to congratulate presenters Toros Boyadjian and Vatche Topouzian on the longest running program on the station."
"Yes, it's hard to believe that the program started from humble beginnings back in November 1988, founded by Vatche Demerjian, and have served the Australian-Armenian community continuously for 25 years."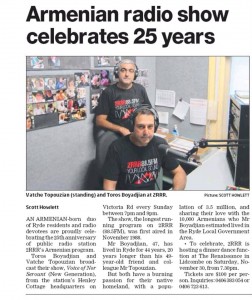 Toros Boyadjian and Vatche Topouzian broadcast the Voice of Nor Serount (New Generation), from the station's Henley Cottage headquarters on Victoria Rd every Sunday between 7pm and 9pm.
The weekly 2 hour program provides a comprehensive summary of the week's news (local, Armenian and International content); sports news; community information; live interviews; and the best Armenian music library consisting of modern hits and golden oldies.
To celebrate, there will be a dinner-dance function held on Saturday 30 November 2013 at "The Renaissance" function lounge in Lidcombe from 7.30 pm onwards.
The function is held under the auspices of His Grace Bishop Najarian (Primate of the Armenian church of Australia and New Zealand) and will be attended by local members of parliament, Councillors from the City of Ryde, distinguished guests, members of the Armenian community and our listeners. Entertainment will be provided by the popular local Armenian band "Blackbird."
To help celebrate the "Voice of Nor Serount" Armenian Program's 25 years on air, contact Garbis Abedjian at 0406 383 054 or Vrej Manoukian on 0406 723 613.