YEREVAN — Hundreds of mostly young activists continued social protests against the rise in public transport fares in Yerevan. They urged commuters to continue to pay 50 and 100 drams per ride for a fifth consecutive day on Wednesday. Leaders of the movement pledged to carry on with their campaign backed by opposition parties and a growing number of Armenian celebrities that have not been involved in civic activism until now.
Many of the celebrities have taken to the streets offering ordinary Armenians rides in their cars. The tactic, billed Free Car, is meant to dissuade people from using public transportation and keep the pressure up on the authorities.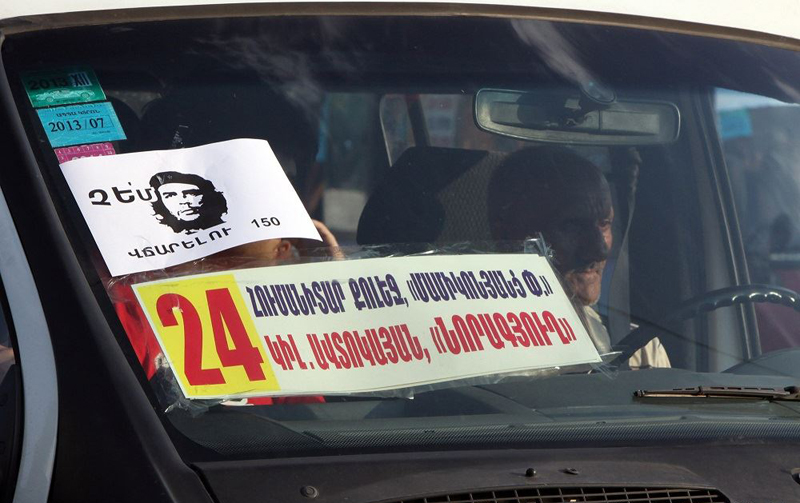 Some Armenians feel that they have been duped by officials, who, they claim, delayed the price hike until after the February 18 presidential election, which saw President Serzh Sarkisian re-elected. The government denies any such scheming.
"The 150-dram fare is illegal and every citizen has the right not to pay the extra 50 drams," one of those leaders, a young woman, told an outdoor news conference. "This movement is turning into a social revolt," said another activist. "More and more people are joining in the fight."
The campaign seems to have influence many Yerevan residents. Their refusal to pay higher fares caused a brief strike by the drivers of two dozen trolleybuses on Wednesday. The drivers, who also collect the fees, complained that they are unable to meet their increased revenue targets.
"Our daily [revenue] plan has been raised to 28,000 drams from 14,500 drams," one of them told RFE/RL's Armenian service. "How can we collect that much?"
The owners of private companies operating Yerevan's public transport system  strongly defended the municipal government's controversial decision to sharply raise fares in the capital, saying that it will save them from financial ruin.
Yerevan Mayor Taron Markarian, meanwhile, finally publicized the written decision to raise bus and minibus fares from 100 to 150 drams (35 U.S. cents) and double the charge for trolleybuses to 100 drams. It was signed by him on July 19, the day before the new tariffs took effect, sparking angry protests in the Armenian capital.
Opposition leaders immediately pounced on this delay, arguing that under Armenian law government directives cannot come into force before being made public.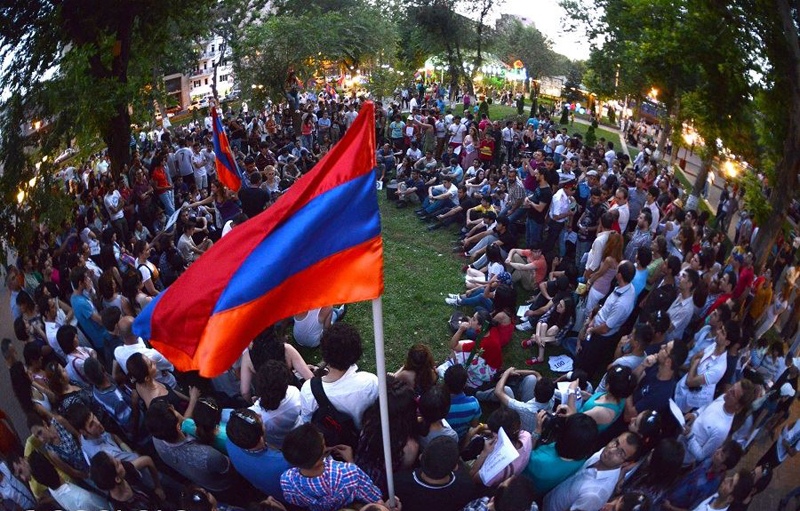 The directive signed by the mayor says that transport price hikes were requested by the 48 companies operating Yerevan bus routes. The owners of at least two such firms confirmed this. They said the unpopular measure is the only way of offsetting their losses resulting from recent years' dramatic increases in the cost of natural gas imported from Russia. Russian gas is used, in liquefied and pressurized forms, by virtually all buses and minibuses in Armenia.
Most of the minibus firms are owned by senior government officials, pro-government politicians and their relatives or cronies and are therefore unlikely to be loss-making. The higher fares are primarily aimed at maximizing profits made by such individuals.