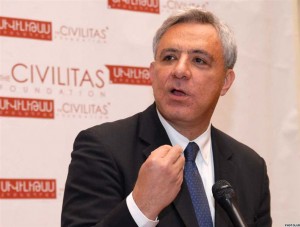 YEREVAN (RFE/RL) — Vartan Oskanian, a key member of former President Robert Kocharian's administration, said on Monday that it was responsible for the March 2008 post-election unrest in Armenia that left ten people dead.
"It was certainly one of the darkest pages of our history," he told reporters "The then authorities are certainly responsible for that. The authorities should not have allowed such a thing to happen. I was part of those authorities."
Oskanian, who served as foreign minister in the Kocharian administration, stressed at the same time that he "tried to prevent" the bloodshed resulting from a disputed presidential election that formalized a handover of power from Kocharian to Serzh Sarkisian, a longtime ally.
"I am positively different from other politicians in that I assumed that responsibility," he said. "I had the courage to stand before cameras and call on both the president of the republic and the opposition to embark on a dialogue so that we avoid [bloodshed.]"
Oskanian referred to his televised statements made in the presidential palace in Yerevan on March 1, 2008 just hours after security forcibly dispersed supporters of Levon Ter-Petrosian, the main opposition presidential candidate, camped out in the city's Liberty Square in protest against the alleged rigging of the election.
Oskanian effectively defended the use of force by security forces at the time. He also blamed Ter-Petrosian for the post-election tensions. "The ball is in Levon Ter-Petrosian's court," he said on March 1, 2008. "Of the nine presidential candidates only he refuses to move to the political plane."
Just a few hours later, security forces clashed with scores of opposition protesters who barricaded themselves elsewhere in downtown Yerevan. Eight protesters and two interior troop servicemen died as a result.
The violence was followed by mass arrests of Ter-Petrosian's associates as well as other opposition activists and supporters. Nobody was prosecuted in connection with the March 1-2, 2008 deaths.
Kocharian and Armenia's current leadership have repeatedly defended the deadly crackdown, saying that it thwarted a coup d'etat allegedly planned by Ter-Petrosian. The opposition leader and his allies have brushed aside this explanation. They maintain that the authorities deliberately killed people to enforce the official results of a rigged election.
The fallout from the March 2008 violence did not keep Ter-Petrosian's Armenian National Congress (HAK) from collaborating in 2012-2015 with the Prosperous Armenia Party (BHK) of Gagik Tsarukian, a wealthy businessman reputedly close to Kocharian. The latter has grown increasingly critical of Sarkisian in recent years.
Oskanian was a senior member of the BHK until Tsarukian resigned as party leader under strong government pressure a year ago. He announced at the weekend plans to form a new opposition party of his own.
Levon Zurabian, the HAK's deputy chairman, said on Monday that the HAK is ready, in principle, to cooperate with Oskanian's party as well.