Raffi Hovannessian Holds "Inauguration of a New Armenia"
Police Clash with Protesters on Bagramian Street
YEREVAN — President Serzh Sarkisian was sworn in for a second term on Tuesday, during an extraordinary session of the National Assembly of Armenia held at the Karen Demirjian Sport and Concert Complex, boycotted by leading opposition forces.
Speaking at his inauguration ceremony, Sarkisian pledged to establish the rule of law and democratize the country's political system. He also promised faster economic development and reducing poverty in Armenia.
"For the forthcoming five years, I consider economic development the number one priority of our state and nation," Sarkisian said in an ensuing speech. "A whole array of problems that Armenia is facing is in this very plane. Let me highlight the three main ones: emigration, unemployment, and poverty."
Sarkisian seemed to acknowledge widespread popular discontent with the economic situation in the country, which was exposed by his main challenger Raffi Hovannisian's stronger-than-expected performance in the February 18 presidential election. He said Armenians who voted for Hovannisian and other opposition candidates are "demanding more efficient work" from the government. "Rest assured that all messages are duly received," he said.
Sarkisian also mentioned the unresolved Nagorno-Karabakh conflict in his speech, saying that Armenia will continue to strengthen its armed forces in the face of Azerbaijan's growing threats to end the dispute by force. "We do not want war but at the same time we are ready to confront any challenge," he said.
"We offered our neighbors dignified peace, anchored to universal human values," added the Karabakh-born president. "But the experience of recent years has demonstrated that they are not ready to accept the offer. The tougher, in their own opinion, the conditions they create for us, the stronger we become. And this will be becoming increasingly visible."
Some 2,000 invited guests were present at the inauguration ceremony, among them international delegations and diplomats representing around 60 countries, including Nagorno Karabakh led by president Bako Sahakian, Collective Security Treaty Organization (CSTO) Secretary General Nikolay Bordyuzha, Iranian Foreign Minister Ali Akbar Salehi, Russian president's chief of staff Sergey Ivanov, FIDE president Kirsan Ilyumzhinov, and others.
"Inauguration of a New Armenia"
While Sarkisian took the presidential oath, Raffi Hovhannisian, vowed to keep pressing for change. Herallyed thousands of supporters in Liberty Square for what he called "the inauguration of a new Armenia." The rally began at noon, about the same time as President Sarkisian's inauguration.
Addressing the crowd, Hovannisian again rejected Sarkisian's reelection as fraudulent but, contrary to expectations, stopped short of declaring himself Armenia's president. He instead took an oath to disobey "false laws" and "illegal orders," and to continue fighting against the ruling regime. Many demonstrators repeated the oath word for word at his urging.
Hovannisian stated that he would keep working to return power to the people. But he left many attendees disappointed by not outlining next steps in the political struggle against Sarkisian's administration.
After the Liberty Square festivities, Hovhannisian led thousands of his supporters on a march toward the presidential residence. Riot police blocked access to the residence, and, amid clashes, about 20 people were taken into custody.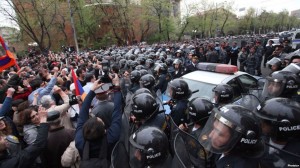 Rows of security forces armed with shields and truncheons blocked a major street in the city center leading to Sarkisian's residence to halt the unsanctioned march against the official results of the February 18 presidential election. They pushed back the crowd led by Hovannisian but did not disperse it despite scuffling with protesters for about 20 minutes. The former presidential candidate was knocked to the ground in the melee.
One of Hovannisian's close associates, Armen Martirosian, was detained on the spot. Video materials posted on the internet show a member of the "red berets" (special taskforce officer) hitting Martirosian on his nose and mouth, then a police officer takes him to a police car and transfers to the police station.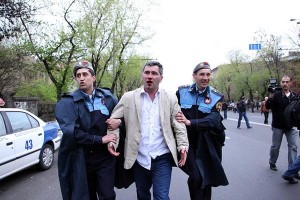 The police warned the crowd to turn back as it approached Marshal Bagramian Avenue from nearby Liberty Square. Hovannisian defied the warning, saying that he and his supporters only want to walk past the presidential offices to the Armenian Genocide Memorial on Tsitsernakabert Hill. "This is our street, our right, our constitution. I'm moving forward," he said.
Eventually, several thousand of opposition protesters were allowed to march through Bagramian Avenue where the Presidential Palace is located .
After negotiations with Police Chief Vladimir Gasparian late on Tuesday Hovannisian told his supporters that the police had agreed to remove the cordons and let the demonstrators proceed through the thoroughfare to end their march in Liberty Square for a "good night".
Hovannisian said that while passing the Presidential Headquarters opposition supporters were free to express themselves, but he suggested that they sing the national anthem as a means of voicing their protest against Sarkisian.
Earlier, Hovhannisian had proceeded to the Tsitsernakaberd memorial, dedicated to victims of the 1915 Armenian Genocide. There, he prayed together with police chief Gasparian. "I pray for Serzh Sarkisian, for the Catholicos and for the police," said Hovhannisian.