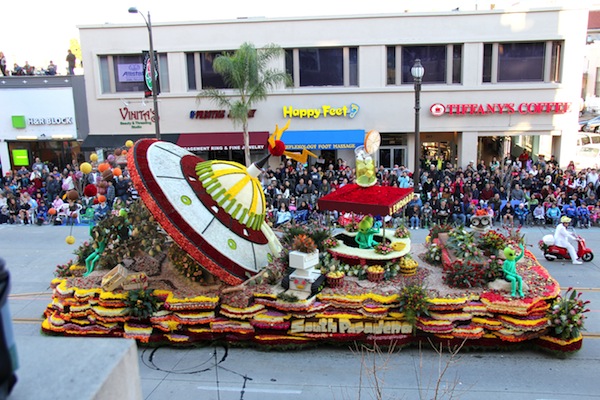 LOS ANGELES — Pasadena's award-winning events venue Noor will host its 3rd Annual New Year's Day Champagne Brunch with spectacular views of the 124th Rose Parade route from its Sofia Ballroom. This year, proceeds from the brunch will benefit the Armenian Film Foundation's Armenian Genocide Digitization Project.
Spectators will enjoy close-up views of the world-famous Rose Parade from Noor's balcony and Sofia Ballroom. "This is such a unique event – there is nothing else like it. Where else can you enjoy a wonderful brunch and champagne while having a bird's eye view of the Rose Parade in a beautiful warm setting? And at the same time, support a cause near and dear to our hearts," said Robert Shahnazarian, Senior Vice President of Noor.
Noor, overlooking the famed Colorado Boulevard in Pasadena, was voted Most Stylized Venue 2012 by Pasadena Magazine and Best Wedding Location and Banquet Hall for 2011 and 2012 by Pasadena Weekly. Last year's Champagne Brunch sold out early.
Ticket price is $250 per person and includes a Champagne Brunch, Parking and spectacular views of the 124th Rose Parade.
"What could be better than viewing the famous Rose Parade up close – and helping to preserve our survivors' testimonies? We are thrilled to be part of this event, and the recipient of the generosity of Noor," said filmmaker Carla Garapedian, who is leading the AFF's digitization project.
Donations from the event will help fund the digitization of the 400 testimonies of Armenian Genocide survivors and witnesses recorded by the late documentary filmmaker J. Michael Hagopian. These rare interviews will become part of the USC Shoah Foundation Institute's Visual History Archive –available to scholars, students and researchers online.
The New Year's Day event begins at 7 a.m. on Tuesday, January 1, 2013. Tickets are limited and available at www.itsmyseat.com/roseparade2013.