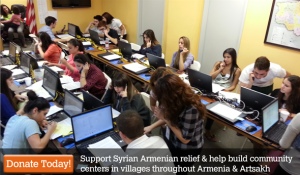 GLENDALE — For more than 3 weeks now, students from local high schools – both private Armenian and public – have been working the phones here, volunteering every day, to raise funds for two beneficial projects of Armenia Fund's 15th International Thanksgiving Day Telethon: construction of multifunctional community centers in Armenia and Artsakh and humanitarian relief to Syrian Armenians caught in a brutal civil war.
"On Thanksgiving Day some of our compatriots are out of town visiting their relatives in other states, some might not have a chance to watch the broadcast, so we decided to give our fellow Armenians a chance to participate by calling them directly before Thanksgiving Day. Most importantly, this is also a good chance to communicate with our donors – to educate them about Armenia Fund and its projects, and for us to hear our donors' concerns and suggestions," said Sarkis Kotanjian, Executive Director of Armenia Fund, U.S. Western Region.
Armenians from Texas to Minnesota, from Missouri to California are answering Armenia Fund's call to extend a helping hand to Armenia and our Syrian Armenian brothers and sisters. Keeping Artsakh strong is an undisputed, absolute and every-day priority – a sacred duty for every Armenian as the loss of Artsakh means the loss of Armenia. At the same time, our nation is as strong as every Armenian community around the world.
Today's "ground zero" of the Armenian Diaspora–the Syrian Armenian community–found itself caught in a violent civil war unfolding around them as they remain neutral in the internal Syrian armed conflict. With pain and sorrow every Armenian throughout the world reads news of Armenian homes, churches and schools being looted, damaged or burned, and innocent people killed or wounded. Our brothers and sisters need food, medicine and temporary shelter as well as emergency medical and other critical humanitarian assistance. Members of the Syrian-Armenian community who escaped the nightmare of war and found refuge in Armenia have similar needs.
Every dollar counts as it represents a united national front to help Armenians in places where that help is needed the most.
Armenia Fund calls on every Armenian around the world to participate in the International Thanksgiving Day Telethon campaign – be it by answering a volunteer's call with a donation, calling in to the studio with a pledge or making a secure online donation at www.armeniafund.org/donate
Armenia Fund's 15th International Thanksgiving Day Telethon will air on November 22, beginning at 8:00am PST and broadcasting around the world for full 12 hours.
In Southern California, the Telethon can be seen on KVMD, ARTN/Shant, USArmenia and H1 networks. In addition to these channels, in the Glendale/Burbank/Pasadena/La Canada areas the Telethon broadcast will also be shown on AMGA, Horizon, AABC, BestTV, High Vision and ICFN channels. The live 12 hour webcast can be viewed at www.ArmeniaFund.org
General Sponsor of Telethon 2012 include – Ardshinvestbank, Los Angeles Major Partner – Massis Kabob, Sponsor – Ameria Group.