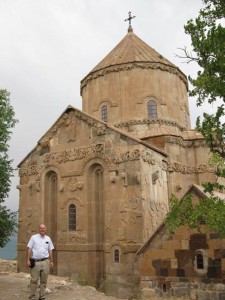 FRESNO — Armenian Studies Program Coordinator Prof. Barlow Der Mugrdechian will present an illustrated lecture on "Historic Armenia: Memories and Images" at 7:30 PM on Wednesday, November 14, 2012, in the University Business Center, Alice Peters Auditorium, Room 191, on the Fresno State campus.
This lecture is part of the Armenian Studies Program Fall 2012 Lecture Series and is co-sponsored by the Armenian Students Organization.
Der Mugrdechian traveled to historic Armenia in summer of 2012, visiting Kars, Ani, Van, Aghtamar, Bitlis, Moush, and Erzerum. These regions are rich in the cultural history of Armenia. The Monastery of Varag and the Arakelots Monastery of Moush were among the historic and moving sites that he visited. He will present his impressions about the trip and discuss the changes that are taking place in Turkey regarding Armenian monuments and churches.
Barlow Der Mugrdechian is Coordinator of the Armenian Studies Program at Fresno State and has been teaching Armenian language, art, history, and culture course for more than twenty-seven years.
The lecture is free and open to the public.
Parking: Parking rules have changed for the university. Parking is available in Lots A or J on campus, only if a free parking pass is obtained by using parking code 273303 in any of the campus kiosks.
For more information on the lecture please contact the Armenian Studies Program at 278-2669.