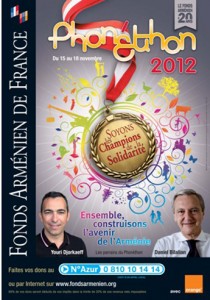 PARIS — The 13th pan-European Phoneathon of the Hayastan All-Armenian Fund held November 15-18 secured pledges of more than €1,400,000 (about $1.8 million). This amount is 8% more than in 2011, the Fund's Press Service informs.
Throughout the event, over 700 Armenian and non-Armenian volunteers from France, Germany, Switzerland and Belgium made phone appeals, with calls going out 12 hours a day. Stationed in Paris, Lyon, Marseille, Nice, and Toulouse, the callers contacted Armenian families, businesses, and organizations across Europe to request financial support for the ongoing development of Armenia and Artsakh, as well as emergency relief for the Syrian-Armenian community.
The Phoneathon will benefit the construction of community centers in villages throughout Artsakh and comprehensive agricultural development in Armenia's Tavush Region. In addition, a part of the proceeds will be dedicated to providing urgent aid to the Syrian- Armenian community.
This year the Phoneathon was hosted by soccer star Youri Raffi Djorkaeff, who helped secure the 1998 FIFA World Cup and Euro 2000 championship for the French national team; and Daniel Bilalian, director of sports programming with France TÈlÈvisions.