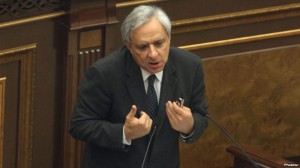 YEREVAN — The Armenian National Assembly has voted 64-6 to strip Prosperous Armenia Party (PAP) lawmaker and former Minister of Foreign Affairs Vartan Oskanian of his parliamentary immunity to allow his prosecution on money embezzlement charges after two days of debate that included strong suspicions about the political nature of the case.
During the discussions that followed Prosecutor-General Aghvan Hovsepyan's presentation of his motion regarding Oskanian, not only the PAP, but also the three opposition factions of the National Assembly, namely Heritage, Dashnaktsutyun and the Armenian National Congress labeled it a "fabricated and baseless case".
Oskanian was quick to condemn the development. "That injustice is not against me," he wrote on his Facebook page. "It is against our people, ordinary citizens, younger generations and the fate of our country in general."
Oskanian is now expected to be formally charged with misappropriating a $1.4 million donation that was made by U.S. philanthropist Jon Huntsman Sr. to his Yerevan-based Civilitas Foundation in late 2010. Addressing the parliament on Monday, Prosecutor-General Aghvan Hovsepian indicated that he will not be arrested pending investigation.
One of Oskanian's lawyers, Tigran Atanesian, insisted on Tuesday that Hovsepian failed to substantiate the accusations made by the National Security Service (NSS). He argued that neither the Civilitas management nor Huntsman's representatives have lodged any complaints against his client.
Atanesian also strongly denied the chief Armenian prosecutor's claim that Oskanian spent more than $180,000 of the donated money "for personal purposes" after it was transferred to one of his bank accounts in January 2011.
Oskanian assured lawmakers on Monday that he deposited "every penny" of the sum with a separate Civilitas account on Saturday.
Hovsepian faced more scathing attacks from opposition deputies. One of them, the PAP's Elinar Vartanian, claimed that Armenian prosecutors routinely ignore reports of government corruption and other abuses but readily "fabricate" politically motivated cases. "In civilized democratic countries a prosecutor facing such questions resigns, rather than comes to the parliament with such petitions," she said before the vote.
Aram Manukian, a deputy from the opposition Armenian National Congress (ANC), accused Hovsepian of having been involved in "all illegal persecutions and fabricated criminal cases in the Republic of Armenia." Manukian singled out the influential prosecutor's role in the 2008 arrests and prosecution of more than a hundred loyalists of ANC leader Levon Ter-Petrosian.
The 2008 crackdown was ordered by then-outgoing President Robert Kocharian following a disputed presidential election. Oskanian was still Armenia's foreign minister at the time.