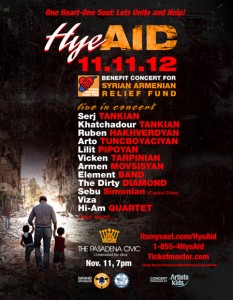 PASADENA — The ongoing critical situation in Syria has placed the subsistence of Syrian Armenian population in jeopardy. As they struggle to live through a very difficult situation, life for us Americans and particularly those living in Southern California seems to continue as before. Let us unite and help as one heart and one soul.
The Syrian Armenian Relief Fund, in association with Artists for Kids, has organized a charity concert to be held on November 11, 2012, at 7 pm, at the Pasadena Civic. Armenian artists are coming together to do their part to raise awareness for the needs of the Syrian Armenians; Southern Californians can make their way to Pasadena and show their support for the Syrian Armenians.
Serj Tankian and his father Khatchadour Tankian will be performing, along with Ruben Hakhverdyan, Arto Tunchboyachiyan, Lilit Pipoyan (from Armenia), Armen Movsisyan, Vicken Tarpinyan (from France), Sebu Simonian, Element and Viza bands, The Dirty Diamond, Hi-Am Quartet, and others. The variety of musical styles will satisfy all who appreciate music as a means to reach and touch hearts, who care about the well being of other human beings.
The concert grand sponsors are Karoun Dairies in Sun Valley, and Vahan and Anoush Chamlian Armenian School in Glendale.
Tickets are available from on-line outlets and by telephone, itsmyseat.com/HyeAid, 855-4HyeAid (855-449-3243) and Ticketmaster.com. Arpi Barsoumian can be reached at 818-500-9997 or 626-255-2683 regarding tickets as well.
The fundraising for the Syrian Armenians is ongoing. Last August, an Executive Committee was set up by ten churches, charity and leading organizations operating in the Western U.S.A. in order to conduct fundraising. The Executive Committee of the Syrian Armenian Relief Fund already transferred $100,000, from the raised funds, to assist the Armenian population in Syria.
www.SyrianArmenianReliefFund.org Syrian Armenian Relief Fund, P.O. Box 1948, Glendale, CA 91209-1948.