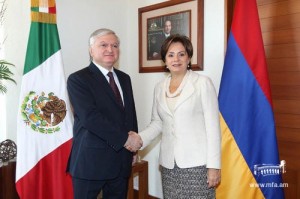 MEXICO CITY — On a visit to Mexico on Monday Foreign Minister Edward Nalbandian voiced his concern over adoption of distorting resolutions by Mexican parliament over Nagorno Karabakh.
Mexican lawmakers passed a resolution earlier this year saying that the military operation launched by Armenians near Khojalu in late February 1992 was an instance of ethnic cleansings against Azeri civilians.
Meeting with his counterpart Patricia Espinosa, the Armenian minister stressed that these resolutions roughly contradict the position of the international community voiced many times by the leaders of the OSCE Minsk Group co-chairing countries and harm the talks and regional security as well as negatively affect Armenian-Mexican relations.
The minister also stressed that he shares the viewpoint of Mexican human right defenders that the unveiling of the so-called "Khojalu monument" in Mexico is an offence to the memory of genocide victims and agreed with the responses throughout the world over placing statue of former president of Azerbaijan in Mexico's capital. Mexico's Minister offered explanations over the placing of the former president's statue, saying the Mexican public has negatively responded to it.
On the same day the Armenian minister met with the members of the Mexican Senate. He said this year the two countries are marking 20th anniversary of establishment of diplomatic relations but not everything that was done was aimed at developing the relations, but just the opposite, there were steps that harmed them. "What I mean is the adoption of resolutions about Nagorno Karabakh by the Mexican former convocation parliament which contradict the stance of the international community and encourages the unconstructive stance of Azerbaijan and its aggressive steps," Minister Nalbandian said.