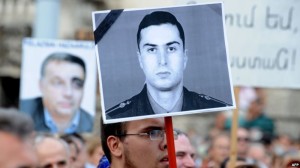 BUDAPEST (Reuters) — Hungary knew its decision to hand convicted killer Ramil Safarov over to his native Azerbaijan would spark a diplomatic backlash from Armenia, Hungarian Prime Minister Viktor Orban said on Tuesday.
Budapest released Safarov to Azerbaijan last month where Azeri President Ilham Aliyev pardoned him on arrival.
Orban was asked at a news conference about a report by news portal origo.hu, which said the prime minister had taken the decision despite being warned about the risks of such a move.
Orban was warned by colleagues in his party about the risks and consequences of such a step, however, he decided to proceed with it with the expectation of getting loan credits from Azerbaijan to balance the deficit in the Hungarian budget.
"There was coordination within the entire government about this," Orban said. "Each ministry presented its opinion, the justice ministry about the legal side and the foreign ministry about the diplomatic consequences."
Orban said he had then announced the decision personally in line with general procedure. "The foreign ministry had forecast precisely what types of consequences this or the other decision may have. Nothing happened after our decision that we would not have reckoned with in advance," he added.
Hungary has said its actions were consistent with international law and that Azerbaijan had promised to uphold Safarov's sentence. While the two countries were in talks about developing closer economic ties, these were in no way linked to the release of the soldier, the Hungarian government has said.