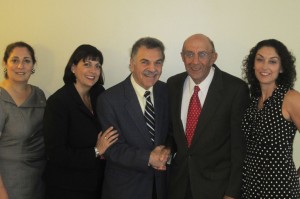 PARAMUS, NJ — The Armenian Missionary Association of America (AMAA) was recently named recipient of a grant of $300,000 from the John Mirak Foundation of Arlington, MA. This contribution will be used to provide support for the construction of the Khoren and Shooshanig Avedisian School in Malatia-Sebastia, Yerevan, Armenia. In particular, this grant will provide the school LEED certification (Leadership in Energy and Environmental Design) meaning that it will be constructed and operated with leading edge technology and materials that maximize sustainable energy use, efficiency and water conservation.
"We are truly blessed to receive this grant from the John Mirak Foundation," said Levon Filian, Executive Director of the AMAA. "The Mirak Foundation's sponsorship of the first LEED-certified building in Armenia is truly unique. LEED-certification of the School demonstrates the commitment of both the Mirak Foundation and the AMAA to a future where the buildings are designed to be environmentally sustainable, earthquake resistant and less costly to operate. "
The award-winning Khoren and Shooshanig Avedisian School was established by Edward and Pamela Avedisian of Lexington, MA in September, 1999 as a tuition-free kindergarten with 75 students in three classes. With the anticipated completion of the Avedisian School's new middle and high school in September 2014 and contributions such as those from the John Mirak Foundation, over 500 students from economically disadvantaged homes in Malatia-Sebastia will have an opportunity to explore and learn in a tuition-free, nurturing environment.
Founded in 1972 by Genocide survivor, John Mirak, the John Mirak Foundation is a private family foundation that has generously supported charitable and educational institutions in Arlington, MA and the global Armenian community including The Armenian Cultural Foundation, The Armenia Tree Project, The Armenian Heritage Park and many others. The Foundation has recently renewed its commitment to preserving Armenia by funding organizations that focus on issues surrounding environmental sustainability, reforestation, and education at all levels.