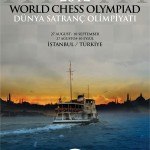 ISTANBUL — The 40th World Chess Olympiad began on Tuesday at the Istanbul Expo Center with the games of the first round.
158 teams compete in the Open Section, while the Women Section has 124 teams participating.
The Armenian men's chess team defeated Bolivia's team by 3:1 in the first round of World Chess Olympiad. Armenia's Sergei Movsesian was defeated by his opponent Oswaldo Zambrano. Movsesian's mistake in the 46th move was fatal and the Armenian GM had to admit his defeat in the 51st move. In other matches, Vladimir Akopian defeated Jose Daniel Gemi, Gabriel Sargissian defeated Jonny Cueto and Tigran Petrosian defeated Boris Ferrufino.