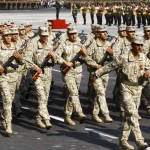 YEREVAN — Armenia will hold this October what its Defense Ministry described on Thursday as unprecedented military exercises involving thousands of troops and army reservists.
The ministry also announced that more Armenian army fortifications along the border with Azerbaijan have been beefed up in recent months.
"It will be a big exercise," the ministry spokesman, Artsrun Hovannisian, told RFE/RL's Armenian service (Azatutyun.am). "It will be unprecedented in the sense that we have not had [war games] of that scale before."
Hovannisian said the one-week drills will be marked by "quite a large participation" of reservists. Scores of them, including young Armenians demobilized from the armed forces recently and even men aged 50 or over, will be called up for that purpose, he said.
"In recent years the participation of reservists has steadily increased," explained the official. "We are in a situation where our reservists must always be actively engaged in military training."
The Armenian military already announced in April 2011 that the training of its reserve personnel will be more regular and intensive from now on. Thousands of reservists have spent up to a week in military camps since then.
Hovannisian stressed that the upcoming exercises were planned in advance and are not directly related to the tense situation on Armenia's border with Azerbaijan and "the line of contact" around Nagorno-Karabakh highlighting the growing risk of another Armenian-Azerbaijani war. "There is no need to panic and make unnecessary speculations," he said.
The Armenian military made similar statements in late June when it held, jointly with other state bodies, command-and-staff exercises that simulated their coordinated response to the outbreak of a full-scale war, including a general mobilization.
On August 28, Armenian Defense Minister Seyran Ohanian visited the southwest border military units. Minister Ohanyan familiarized himself with the course of the large-scale construction works and soldiers' combat readiness, testing the resistance of defense and engineering facilities.
Minister Ohanian hailed the positive trends recorded in Armenian armed forces in terms of physical and moral training of the servicemen and social conditions.
Upon competition of the meeting, he gave relevant instructions to boost the effectiveness of the works carried out.