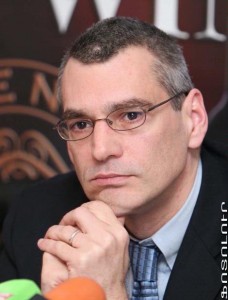 YEREVAN — Massachusetts State House's resolution in support of Nagorno-Karabakh's independence is evidence of Nagorno-Karabakh's importance for the United States (US) given the fact that the Rhode Island legislative body adopted a similar resolution a month before, Richard Giragosian, Head of the Regional Studies Center (RSC), told journalists at a discussion with representatives of Armenia's Ministry of Defense and Ministry of Foreign Affairs, on Wednesday.
According to him, the Nagorno-Karabakh conflict is much more important for the USA than other "frozen conflicts" – both in positive and negative aspects.
Giragosian spoke of three subpoints of the Nagorno-Karabakh conflict: developments and trends in terms of military security, general political developments and, finally, what has been achieved within the OSCE Minsk Group.
The expert points out obvious tension in the Nagorno-Karabakh peace process, as well as more instances of sniping on the Line of Contact. However, "a shifting balance of power" is much more important.
"Azerbaijan increased defense expenses and has more recently started to acquire more mortal and offensive weapons. It is this trend in procurement that makes this danger of escalation even more significant," Giragosian said.
In terms of Azerbaijani defense spending it is not the number that counts as much as where the money goes and how it is used, added the expert.
Azerbaijan's acquiring offensive weapon and its willingness to use military force to exert diplomatic pressure on Armenia within the Mink Group are messages to Armenia and there are to international community to the Minsk Group.
In many ways Azerbaijan is generally prostrated by the progress in the peace process. It reflects a sense of betrayal within Azerbaijan by Turkey, the breakdown in the Turkish-Azerbaijani relationship is also another factor driving this escalation. What is also important is a real danger in terms of military security, a war by accident.
The domestic political situation in Nagorno-Karabakh is that, despite free and fair elections, the political system is going in the wrong direction against the general discontent with social conditions and corruption in Nagorno-Karabakh.
With respect to the Nagorno-Karabakh peace process within the OSCE Minsk Group, Giragosian believes it to be "back-to-basics."
The Minsk Group's major role is to keep the diplomatic process alive and prevent hostilities.