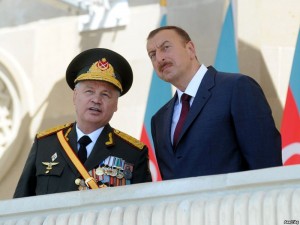 BAKU (RFE/RL) — Azerbaijan renewed threats to end the Nagorno-Karabakh conflict by force on Tuesday, with Defense Minister Safar Abiyev saying that the Armenian side is leaving Baku with no other option.
"Unwilling to peacefully return Azerbaijan's occupied lands, Armenia is every day bringing forward the start of a new war," Azerbaijani news agencies quoted Abiyev as telling General Myles Deering, the visiting commander of the Oklahoma National Guard.
Abiyev complained that long-running mediation efforts by the U.S., Russian and French co-chairs of the OSCE Minsk Group have not produced any "concrete results." In these circumstances, he said, Azerbaijan has no option but to "liberate the occupied territories."
Azerbaijani leaders have for years been threatening to forcibly regain control of Karabakh and Armenian-controlled lands surrounding it. The Armenian side has repeatedly condemned and dismissed those threats, saying that the Azerbaijani military would suffer another defeat.
The United States, the European Union and Russia have likewise spoken out against possible attempts at a military solution to the Armenian-Azerbaijani dispute.
U.S. Secretary of State Hillary Clinton warned of "unpredictable and disastrous consequences" of renewed fighting in the conflict zone when she visited Yerevan and Baku in June. "The use of force will not resolve the Nagorno-Karabakh conflict and therefore force must not be used," Clinton said.