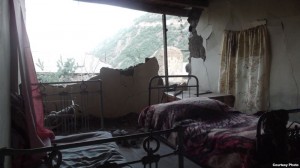 YEREVAN (RFE/RL) — Residents of a remote Armenian village close to the Iranian border stayed and slept outdoors on Wednesday four days after a powerful earthquake in northwestern Iran that killed at least 250 people.
With the epicenter of the earthquake located less than 70 kilometers from the Armenian-Iranian frontier, the tremors were felt in much of Armenia and especially its southeastern Syunik province. They damaged houses in several provincial towns and villages adjacent to the Arax river marking the border.
The damage was visible in at least one of those villages, Varhavar. The house belonging to an elderly local man, Sokrat Arakelian, was apparently hit hardest. Arakelian said he was lying on a couch when its frontal wall crumbled after the first tremor. He rushed out of the house and has not gone back since then.
"What should I do about my damaged house?" he told RFE/RL's Armenian service (Azatutyun.am). "I'm a 73-year-old man. How can I live in this house?"
Not surprisingly, Arakelian and most of the other villagers are still too scared to stay in their homes, fearing that another quake could tear down their homes. "We fear the worst every minute," one woman said. "Our house was shaking [during the quake.]"
Most locals have slept in their beds placed in courtyards, cars and even on the ground for the past four nights. They complained on Wednesday no official from Syunik's provincial administration has visited the community yet.
"They could have given people hope and promised that everything will be alright," said one man. "But nobody has come to our village. What should we do?"
"Only our village mayor is trying to take care of us," said his wife.
The Armenian government has so far announced no plans to assess the damage inflicted on Varhavar and nearby settlements and provide assistance to their residents.