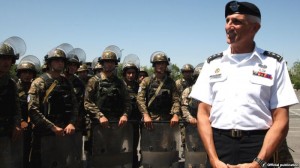 YEREVAN — More than 100 Armenian soldiers flew to Germany on Wednesday to take part in training and exercises organized by the U.S. military for nations involved in the NATO-led peacekeeping mission in Kosovo.
The Armenian Defense Ministry said the 116 soldiers will train at a U.S. military base in Germany from August 16 through September 4 alongside U.S., Bulgarian, Romanian, Slovenian and Ukrainian troops.
"The purpose of the exercises is to enhance the peacekeeping capacity and interoperability of the armed forces of participating countries," the ministry said in a statement.
A separate statement by the U.S. Embassy in Yerevan said the Armenian contingent, which is part of a special peacekeeping brigade, "will prepare for their upcoming tours in Kosovo."
Armenia resumed its participation in NATO's Kosovo Force (KFOR) last month, sending a 35-strong detachment to the former Yugoslav province on board a U.S. military transport plane. The platoon was deployed at a U.S. military base near the eastern Kosovo town of Urosevac for a six-month tour of duty.
The commander of U.S. Army troops stationed in Europe, Lieutenant General Mark Hertling, discussed the Armenian deployment in Kosovo when he visited Yerevan later in July. Hertling also discussed with Armenia's top defense officials training of Armenian military personnel and their participation in multinational exercises organized by the U.S. Army in Europe.
Defense Minister Seyran Ohanian earlier linked the dispatch of Armenian troops to Kosovo with Armenia's growing military cooperation with the United States.
Ohanian discussed that cooperation with the U.S. ambassador to Armenia, John Heffern, and the new American military attaché in Yerevan, Colonel Jeffrey Steemson, at a meeting later on Wednesday.