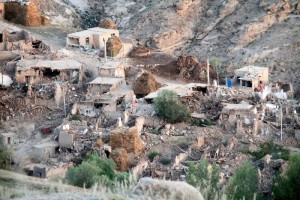 YEREVAN — Armenia's Ministry of Emergency Situations offered the Iranian government its assistance in overcoming consequences of the devastating earthquake.
Nikolay Grigoryan, deputy head of Armenia's rescue service, told Armenian News-NEWS.am that the Armenian side is ready to lend its assistance in holding rescue operations as well, by sending rescue teams to Iran immediately after the disaster.
"The Iranian side thanked Armenia for the offer stating they do not need assistance at the moment," Grigoryan added.
The epicenter of the Iranian earthquake was quite close to Armenia's territory: approximately 60-65 kilometers from nearest border with Iran.
The magnitude 6.3 and 6.4 quakes struck northwestern Iran on Saturday, reportedly damaging more than 100 local villages. The tremors were also felt in Armenia's southeastern Syunik province bordering Iran as well as other regions, including the capital Yerevan.
Thousands of people rushed out of their homes, fearing devastating aftershocks. The panic also fuelled the rumors that Armenia will be hit by a similar calamity in the coming days.
The quake killed 306 and injured over 3,000 people in East Azerbaijan province.