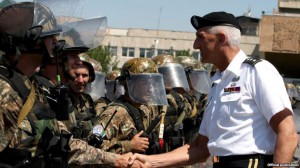 YEREVAN — The commander of U.S. Army troops stationed in Europe, Lieutenant General Mark Hertling, met with Armenia's top military leaders and discussed growing U.S.-Armenian military ties during a visit to Yerevan on Wednesday.
Hertling held separate talks with Defense Minister Seyran Ohanian and Colonel General Yuri Khachaturov, chief of the Armenian army's General Staff, on the second leg of a regional tour that he began in Georgia on Tuesday. He also visited Armenia's main military academy and watched training exercises held by Armenian soldiers.
Some of them represented a special Armenian army brigade that has contributed troops to U.S.-led multinational missions abroad. A 35-strong detachment of the brigade flew to Kosovo on Friday, resuming Yerevan's participation in a NATO-led peacekeeping force deployed in the former Yugoslav province. The platoon is serving there under U.S. command.
According to the Armenian Defense Ministry, Hertling discussed with Ohanian and Khachaturov the Armenian deployment in Kosovo and broader U.S.-Armenian military cooperation. That includes training of Armenian military personnel and Armenian participation in multinational exercises organized by the U.S. Army in Europe, said a ministry statement.
"During the meetings the two sides noted the high-level of U.S.-Armenian defense cooperation and discussed prospects for its development," added the statement.
Ohanian, who visited Washington in March, said earlier this month that that cooperation entered a "more coordinated and targeted phase" last year. John Heffern, the U.S. ambassador to Armenia who was present at Hertling's talks, likewise hailed last week "tremendous growth" in bilateral military ties which he said has occurred in the last three years.
The Armenian military announced in February that the two nations will likely hold soon first-ever bilateral exercises that will be primarily aimed at improving the interoperability of their forces deployed in Afghanistan. Neither side has reported such drills yet, however.