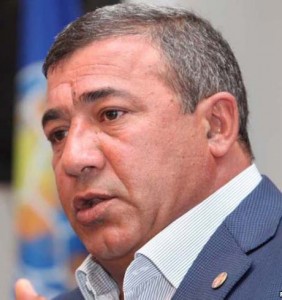 YEREVAN — The Armenian police have interrogated businessman Ruben Hayrapetian but see no legal grounds yet to prosecute him in connection with last month's deadly assault at the Yerevan restaurant owned by him, a senior police investigator said on Tuesday.
Arsen Ayvazian, a high-ranking official from the police Inspectorate General of Criminal Investigations, said Hayrapetian was formally questioned on Friday as a potential witness in the brutal beating of three military doctors who visited the Harsnakar restaurant on June 17.
One of them, Vahe Avetian, died of severe head wounds on June 29. Six men, most of them restaurant security guards, were arrested and charged with assault following the incident that sparked public outrage.
The police have faced growing calls from opposition members, civic activists and some media to prosecute Hayrapetian as well. They have accused the influential tycoon, who has close ties to the Armenian government, of complicity in Avetian's death.
"In their testimonies, neither the victims nor the suspects or witnesses have given any information regarding Ruben Hayrapetian's involvement," Ayvazian told a news conference. "And in these circumstances, with no evidence of his involvement in the criminal case, naturally we cannot speak of arresting or charging him."
According to Ayvazian, the investigators have already clarified that Hayrapetian, who heads the Armenian Football Federation (AFF), was not at Harsnakar during the incident. He said the tycoon left the restaurant and headed to the nearby AFF soccer academy about two hours before Avetian and the other doctors were assaulted in still unclear circumstances.
There have been media allegations that Hayrapetian might have ordered the beatings by phone. Ayvazian said the police will look into this theory by listening to his and his arrested employees' phone conversations recorded by wireless operators. A Yerevan court has already ordered those companies to make the audio available to the investigators, he said.
Ayvazian also denied media reports that the main suspect in the case, who is believed to have inflicted the fatal injuries on Avetian, is a personal bodyguard of Hayrapetian. He said all jailed suspects officially worked at the restaurant. Some of them have only escorted Hayrapetian "on some special occasions" in the past, he claimed.
Many government critics in Armenia distrust police pledges to solve the case in full, citing what they see as impunity that has long been enjoyed by government-linked "oligarchs" like Hayrapetian. Hundreds of people have demonstrated outside Harsnakar and key government buildings in Yerevan in recent weeks to demand a thorough and objective probe.