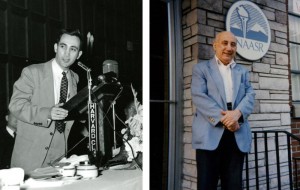 BELMONT, MA — Manoog Soghomon Young, the Founding Chairman of the National Association for Armenian Studies and Research (NAASR) and its chairman until 2001, passed away on Tuesday, July 3, 2012, at the age of 94. He is survived by his wife of 49 years Barbara (Johnson) Young, children Armen Young of Littleton, MA, and Adrina Young Gobbi of North Billerica, MA, and grandchildren Jake and Mariah Gobbi and Christopher and Lauren Young.
"The Father of the Armenian Studies Movement" in America
Prof. Gerard J. Libaridian has aptly called Manoog Young "the father of the Armenian Studies movement," and this begins to give a sense of Young's role in ushering into existence the field of Armenian Studies in America and his half century working to advance it.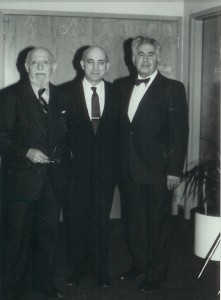 Early Life and Education
Manoog S. Young was born in Boston, MA, in 1917 to Soghomon and Aghavni Malyemezian Young. Both parents were born in Kharpert, in the Ottoman Empire and emigrated to the U.S. prior to the 1915 Armenian Genocide. Young was raised in Boston's South End. He received a B.S. in Mathematics and Physics from Northeastern University and a M.A. in History and International Relations from Clark University, where he wrote a thesis entitled "Russia and the Armenians, 1700-1923: Growth of Russian Interest in Armenia, its Character and its Relation to the Straits Question." He also took courses at MIT, Boston University, and the London School of Economics. During World War II, Young served in the 8th and 9th Air Forces in Europe.
Professional Experience
Young taught Physics and Applied Mechanics at the University of Massachusetts; taught International Relations at Northeastern University and History and Government at Brookline High School. In the early 1950s he worked as an editorial assistant at the Armenian Mirror-Spectator newspaper. He served as Business Manager and Bursar at the Franklin Institute in Boston for more 27 years.
Affiliations and Honors
Young's many affiliations include the following: Founding Member, Chairman of the Board of Directors, and Honorary Life Member, NAASR; Member, Board of Trustees, Facing History and Ourselves National Foundation; Honorary Board Member, Cambridge-Yerevan Sister City Association; Chairman, AGBU Elementary School Board, Watertown, MA; Chairman, American Veterans Committee Council of Massachusetts; Founding Chairman, London School of Economics Foundation of America; Co-Chairman, United Armenian Observance Committee of Greater Boston for the 55th and 60th Anniversaries of the Armenian Genocide; Member, Armenian Students' Association of America; Member, Society for Armenian Studies.
Among the many honors bestowed upon Young are the St. Sahag and St. Mesrob Medal from His Holiness, Catholicos Vazken I, for outstanding service to the Armenian Community and Leadership in Promoting Armenian Studies (1986), and the Arthur H. Dadian Armenian Heritage Award given by the Armenian Students' Association in "recognition of his outstanding contribution to the preservation of the rich Armenian heritage."
Visiting hours are on Monday, July 9, from 6:00 to 9:00 p.m. at Giragosian Funeral Home, 576 Mt. Auburn St., Watertown, MA, and funeral services will be Tuesday, July 10, at 11:00 a.m. at St. James Armenian Church, Watertown, MA.
Expressions of sympathy may be made in his memory to St. James Armenian Church or NAASR.