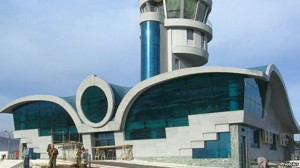 BAKU/YEREVAN — Azerbaijan appeared to have renewed on Monday its threats to shoot down civilian aircraft that would carry out flights between Armenia and Nagorno-Karabakh without its permission.
The authorities in Baku warned of "corresponding measures" just days after international mediators discussed the matter during their latest tour of the Karabakh conflict zone.
In a statement issued on Friday, the U.S., Russian and French diplomats co-chairing the OSCE Minsk Group said they "received renewed assurances from the sides that they will reject any threat or use of force against civil aircraft, pursue the matter through diplomatic steps, and refrain from politicizing the issue."
"The Co-Chairs reaffirmed that operation of this airport cannot be used to support any claim of a change in the status of Nagorno-Karabakh, and urged the sides to act in accordance with international law and consistent with current practice for flights over their territory," the statement added without elaborating.
The Azerbaijani State Civil Aviation Administration said in that regard that the planned Yerevan-Stepanakert flights would constitute an "invasion" of Azerbaijan's internationally recognized airspace and that "taking corresponding measures in connection with that is inevitable."
"According to international norms, Azerbaijan has sovereign rights to its airspace," a spokesman for the government body told the APA news agency. "Those who enter that airspace without permission shall be considered to have breached the air borders."
The Azerbaijani government first voiced such threats, in more explicit terms, early last year when authorities in Karabakh announced the impending reconstruction of the territory's sole airport located near Stepanakert. Baku seemed to have backed away from the threats in April 2011 after being criticized by mediating powers.
The launch of first commercial flights to and from Karabakh in two decades has been repeatedly postponed since then, even though the airport's reconstruction was essentially completed by the end of 2011. Also, a newly established Karabakh airline reportedly acquired two aircraft for Yerevan-Stepanakert flights earlier this year. An official in Stepanakert told RFE/RL's Armenian service (Azatutyun.am) last month that the flight service is likely to be launched before the end of this summer.
The airport stopped functioning in 1991 amid intensifying armed clashes in Karabakh that degenerated into a full-scale Armenian-Azerbaijani war. Transport communication between Karabakh and the outside world has since been carried out by land, via Armenia.