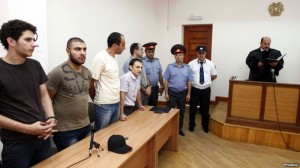 YEREVAN — Four young activists of the Armenian National Congress (ANC) who clashed with police last year were sentenced on Friday to between two and six years in prison on what the opposition alliance considers politically motivated charges.
A district court in Yerevan found them guilty of assault and hooliganism, handing down verdicts demanded by the prosecutors. Tigran Arakelian, a leader of the ANC's youth wing, received the longest prison sentence for what the Armenian police say was a key role in an August 2011 incident in downtown Yerevan.
Arakelian and several other Armenian National Congress activists clashed with police officers in disputed circumstances. They were arrested on the spot and accused of attacking officers maintaining public order in the city center. They strongly denied the police claims, saying that they were beaten up and detained after the policemen tried to arbitrarily search another man.
All of the activists except Arakelian were set free pending investigation in the following days. One of them, Artak Karapetian, was sentenced to three years, while two others, Sarkis Gevorgian and Davit Kiramijian, were jailed for two years on Friday. The three men will go to jail if the prison sentences are upheld by higher courts. Their lawyers said they will appeal the guilty verdicts.
The defendants reacted angrily to the rulings read out by Gagik Poghosian, the judge in the trial. "You will be put on trial," Arakelian shouted at Poghosian before being led away by police guards.
Several dozen opposition members present at the court proceedings shared the anger, staging an impromptu demonstration outside the court building. "This means there are still political prisoners in Armenia," one protester said.
Activists' lawyer Stepan Voskanian told reporters they would appeal the decision.