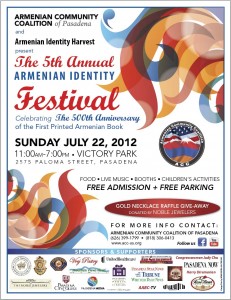 By Steve Morris
The 5th Annual Armenian Identity Festival will take place Sunday, July 22, from 11:00 a.m. to 7:00 p.m. at Victory Park, 2575 Paloma Street, Pasadena. Food, live music, booths, and children's activities are among the events planned.
"This year, we will be celebrating something historic," says Chris Chahinian, chairman of the event. "This is the 500th anniversary of Armenian books – first printed in Venice in 1512. We will be having a showcase of some of the oldest printed books."
Sponsored by the Armenian Community coalition of Pasadena, the festival will celebrate the culture and heritage of Pasadena's Armenian residents, who first came to reside in Pasadena in 1880's. Chahinian points to the first Armenian business in the city: Pashgian Brothers, still open on Colorado Boulevard.
"We will have many traditional dancers performing," Chahinian says. "One of the most important parts of Armenian culture is music. Armenians love music and have been composing for centuries. We like to celebrate with music and, by sharing our rich culture and heritage, we share it with our community.
"It's free to the public. Everyone's welcome. We have a moon walk/jump and a petting zoo. We have many activities for kids. We want families to enjoy our culture," says Chahinian. I think everyone should come to the festival because it enriches our lives."
Admission is free and parking is free. A gold necklace, donated by Noble Jewelers, will be given away by a raffle at the festival. For more information, call 626-399-1799 or visit http://www.acc-us.org.