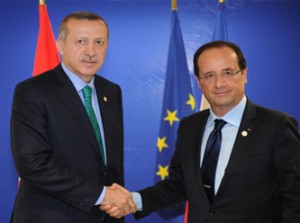 ANKARA — Turkey has agreed to restore all ties with France, Foreign Minister Ahmet Davutoglu said on Thursday, stating that sanctions imposed on Paris would no longer be implemented.
"Sanctions will drop from the agenda thanks to this new stance adopted by France," Davutoglu said in a televised interview, adding that he would be visiting Paris next month. New French President Francois Hollande promised to open a "new page" in relations, which hit a low in December after France's lower house of parliament voted overwhelmingly in favor of a draft law to make it illegal to deny the Armenian Genocide.
Turkish-French relations deteriorated under Hollande's predecessor Nicolas Sarkozy, who angered Ankara when he pushed ahead with the bill to criminalise denial of the Armenian genocide in 1915. After the contentious bill passed in the National Assembly Turkey retaliated by suspending military and political cooperation with Paris.
But France's top constitutional court struck down the bill in February, saying it violated freedom of expression, in a ruling welcomed by Ankara. Sarkozy vowed to launch new legislation but was defeated at the polls first.
During the interview, Davutoglu said he soon would pay an official visit to Paris for talks with French officials. "After the talks on July 5, this stagnation in bilateral ties will hopefully be over," he added. A Turkish foreign ministry diplomat told AFP that whether sanctions against France would be dropped would depend on the upcoming meeting.