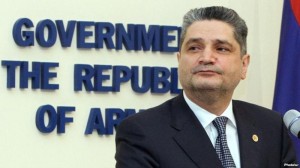 YEREVAN — President Serzh Sarkisian has reappointed Tigran Sarkisian as Prime Minister and head Armenia's new government that will be formed later this month.
The presidential press service said in a terse press release on Saturday that the head of state signed the reappointed decree "based on paragraph 4 of Article 55 of the Constitution of the Republic of Armenia."
Tigran Sarkisian (no relation to President Sarkisian), 52, has led the Armenian government since April 2008. Before that he headed the country's Central Bank for 10 years. Tigran Sarkisian joined the ruling Republican Party of Armenia (RPA) in November 2009.
The Prime Minister and all members of his cabinet submitted their resignations to President Sarkisian as the new Armenian parliament elected on May 6 held its opening session on Thursday. Under the Armenian constitution, the head of state has ten days to appoint a new prime minister. The new government is to be formed within the following 20 days.
President Sarkisian will begin on Saturday consultations with senior lawmakers from the RPA and the Orinats Yerkir Party, its junior partner in the new ruling coalition, on the government's composition.
The two parties signed a new power-sharing deal earlier this week. Orinats Yerkir is expected to retain control of three ministerial portfolios.