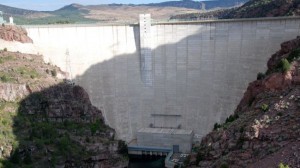 YEREVAN — Iran and Armenia have reached an agreement for the construction of Meghri hydroelectric power plant over the Aras River which forms the common border between two countries.
The agreement was reached during Iranian Energy Minister Majid Namjou's one-day trip to Armenia on Saturday.
During the trip, Namjou conferred with his Armenia counterpart, Armen Movsisian, and the two sides agreed to begin the construction of the joint power plant on August 22, 2012.
According to the agreement, the hydroelectric power plant, which will straddle the border river, will have the capacity to produce 130 megawatts (MW) of electricity. The project is estimated to cost $350 million.
Construction of the power plant will begin simultaneously in Armenia's Meghri and Iran's Qarachilar regions.
Earlier in January, Mir Fattah Ghareh Bagh, the managing director of Iran Grid Management Company (IGMC), said the country's electricity exports to Armenia would increase upon the completion of the 400-kV power transfer line, which will connect Iran's electricity network to the Armenian city of Agarak.
According to Iranian Deputy Energy Minister Mohammad Behzad, the new power transmission line will take Iran's electricity to Georgia, Russia and Europe.