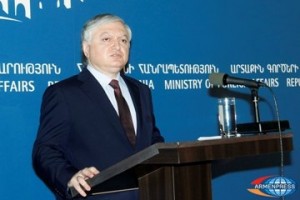 YEREVAN — The settlement of the Nagorno-Karabakh conflict is out of the question unless the country is involved in the current peace talks, FM Edward Nalbandian told the Armenpress News Agency in an interview.
Commenting on the outcomes of his meeting with President Bako Sahakian in Stepanakert earlier today, Armenia's top diplomat said that they had discussed the Minsk Group-mediated negotiation process.
Noting that the co-chairs permanently hold consultations with the country's leadership, Nalbandian said: "The mediators are visiting the region in about ten days and they will be in Stepanakert with that purpose. I would like to emphasize once again that no settlement of the conflict is possible without Nagorno-Karabakh's participation."
Nalbandian further referred to President Serzh Sarkisian's statement at the 2011 Kazan summit, when the Armenian leader said that the Basic Principles cannot be considered coordinated unless there is an approval by Nagorno-Karabakh.
"And once the Basic Principles are agreed upon, the elaboration of a peace agreement is impossible without Karabakh," Nalbandian added.