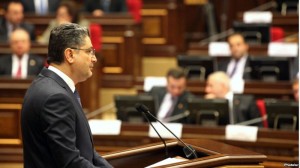 YEREVAN — In what amounted to a vote of confidence, the Armenian parliament approved on Thursday a five-year program of government actions submitted by Prime Minister Tigran Sarkisian's new cabinet and strongly criticized by the opposition.
In the next five years the government formed by the ruling Republican Party of Armenia (RPA) and its junior coalition partner Orinats Yerkir, in particular, pledges to double the official minimum wage of 32,500 drams (about $80), create an additional 100,000 jobs, reduce the poverty rate and encourage birthrate.
In his presentation from the parliament tribune Prime Minister Sarkisian defended the feasibility of the program, describing it as urgent for the nation.
The National Assembly passed it by 75 votes to 47, with one abstention, after two days of heated debates that exposed new battle lines drawn on the Armenian political scene by the May 6 parliamentary elections.
The document was backed by all deputies representing the ruling Party RPA and Orinats Yerkir Party. The four other parliament factions voted against it. The largest of them represents the Prosperous Armenia Party (PAP), which was part of the ruling coalition until this month.
Vartan Oskanian, a senior PAP lawmaker, emphasized the fact that the PAP and the three other, opposition factions won, according to official election results, more than 50 percent of the vote between them on May 6.
"So the political majority, the true majority, is against this program," Oskanian told RFE/RL's Armenian service (Azatutyun.am). "I think that the ruling party and the government must take this fact into account. I think they must revise this program because there is huge resistance."
Opposition parliamentarians questioned the government's ambitious socioeconomic targets and pointed to its allegedly poor track record during the debates. Levon Zurabian, the parliamentary leader of the opposition Armenian National Congress (ANC), also gave a political reason for rejecting the program.
"Can a government that rigged 500,000 to 700,000 votes be accountable to the people? No, such a government will be accountable only to corrupt officials, crime figures and oligarchs … that carried out that vote rigging," Zurabian charged before the parliament vote.
RPA deputies and government ministers hit back at the opposition and especially the PAP. They said the party led by businessman Gagik Tsarukian is also responsible for the state of affairs in Armenia because of having been in government for more than five years.
Education Minister Armen Ashotian argued that PAP representatives ran four ministries that absorb more than one third of government spending. "You must come to terms with the results of the parliamentary elections for the next five years because if we fail you will fail too," Ashotian added, referring to all government opponents in the National Assembly.