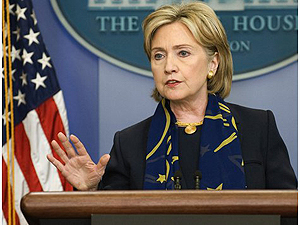 WASHINGTON, DC — Secretary of State Hillary Rodham Clinton will travel to Denmark, Norway, Sweden, Armenia, Georgia, Azerbaijan and Turkey from May 31-June 7. In Copenhagen, Denmark, Secretary Clinton will hold bilateral meetings with senior Danish officials. She will also participate in the kick-off event for Green Partnerships for Growth, a bilateral initiative to promote green technology through public and private sector partnerships.
The Secretary will travel to the Caucasus from June 4 to 7. In all these countries, she will discuss important issues of regional security, democracy, economic development and counterterrorism.
In Armenia on June 4, the Secretary will meet with President Sarkisian and other senior Armenian officials. She will also meet with Armenian civil society leaders.
While in Armenia, Secretary Clinton will discuss the State Department Annual Human Rights Report, according to Richard Giragosian, director of Regional Studies Center.
This year's report, just like others, mentions about weaknesses and problems with state of human rights in Armenia.
"Armenia has already passed the test of elections. The elections could have been and should have been much better," Giragosian said.
The expert is confident that during her visit Clinton will speak about the need to deepen reforms.
"The timing of the visit is interesting, we will already have a new parliament and see what the new coalition will look like," he added.
On June 5, the Secretary will open the U.S.-Georgia Strategic Partnership Commission plenary session in Batumi, Georgia. She will meet also with President Saakashvili and hold discussions with a broad range of political actors and civil society representatives.
The Secretary will travel on June 6 to Azerbaijan to meet with President Aliyev as well as Azerbaijani civil society leaders.
On June 7, the Secretary will co-chair the Global Counterterrorism Forum Ministerial in Istanbul, Turkey and consult with senior Turkish officials on a range of foreign policy challenges, including Syria and Iran.