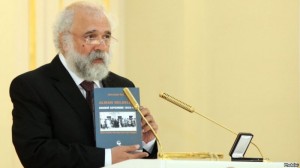 YEREVAN — Ragip Zarakolu, prominent Turkish human rights campaigner and book publisher, received an Armenian state award on Tuesday for what President Serzh Sarkisian called a "remarkable contribution" to international recognition of the Armenian Genocide.
Zarakolu was among more than two dozen mostly Armenian scientists, writers and artists chosen for annual presidential awards given by Sarkisian. He arrived in Armenia with his wife and daughter to accept the prize less than two months after being released from prison pending trial on controversial charges of aiding the outlawed Kurdistan Workers Party (PKK) in Turkey.
"His activities have been an exceptional mission," Sarkisian said at the awards ceremony held in the presidential palace in Yerevan. "His struggle for conveying historical truth to the Turkish society is a brilliant example of high civic stance and courage."
"Your presence here and acceptance of this prize today is also an act of courage," he told Zarakolu.
In his speech at the ceremony, Zarakolu reaffirmed his belief that the ArmeniansGenocide must be acknowledged by modern-day Turkey. "Turkey must accept historical truth," he said. "Only in this way can Turkey regain its self-respect."
"My generation knew what happened and tried to conceal it. However, the younger generation had to believe this lie under certain conditions, which is even worse. Koran says 'Give up telling lies first and always speak the truth,'" the Turkish publisher said. According to him, Turkey has gone blind and deaf.
"My country has turned into a cemetery of the dumb," the Turkish intellectual stated adding that as the 100th anniversary of the Armenian genocide approaches, Turkey must come to understand that recognizing and apologizing fro it has become a precondition for establishment of democratic society in the country.
"Even after Turkey apologizes and compensates [Armenians,] Armenians and Turks can't be as before," he said. "But we can look to the future together."
Zarakolu, 63, rose to prominence in the 1970s as a newspaper columnist and editor highlighting human rights abuses committed in Turkey. He was twice imprisoned by military governments in Ankara before founding, together with other prominent Turks, the Human Rights Association of Turkey in 1986.
Around that time, Belge began publishing books on taboo subjects such as the Armenian genocide. Belge has since translated into Turkish more than a dozen books by Diaspora Armenian authors challenging the official Turkish version of the 1915 events.
At least two of those translations landed Zarakolu in court. A Turkish court ruled in June 2008 that the publication of one of those books insulted "the institutions of the Turkish Republic." The publisher received a suspended five-month prison sentence.
Zarakolu was again arrested by the Turkish police in October last year for "knowingly aiding and abetting a terrorist organization" together with dozens of other Turks. If convicted, he will face up to 15 years in prison. The European Union and international human rights groups have expressed serious concern over the case.
Zarakolu was honored at the Armenian National Library during his previous trip to Yerevan in February 2011. Its director, Davit Sargsian, handed a medal to the publisher, praising his decades-long activism and thanking him for donating dozens of book