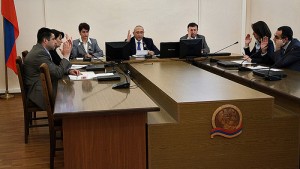 YEREVAN. – The Central Electoral Commission (CEC) of Armenia has announced the final results of the May 6 parliamentary elections.
The final CEC tabulation shows that the total number of eligible voters was 2,501,597.A total of 1,573,053 voterwent to the polls on May 6 (about 62.3 percent).
The proportional election (party, bloc list) National Assembly votes are distributed as follows:
Republican Party of Armenia – 664,640 (44.02%)
Prosperous Armenia Party – 454,673 votes (30.12%)
Armenian National Congress – 106,903 (7.8%)
Heritage Party – 86,996 votes (5.76%)
ARF Dashnaktsutyun Party – 85,550 (5.67%)
Orinats Yerkir (Rule of Law) Party – 83,123 (5.51%)
Communist Party of Armenia – 15,895 (1.5%)
Democratic Party of Armenia – 5,577 (0.37%)
United Armenians Party – 2,946 (0.2%)
The number of inaccuracies was 3,355.
In the final analysis the Republican Party will have 69 seats in the 131-member National Assembly of the next convocation (40 from party-list and 29 from single-mandate elections). Prosperous Armenia will control 37 seats (28 plus 9). The Armenian National Congress will have 7 seats. Dashnaktsutyun and Orinats will have six mandates each (both having won five seats through the party-list vote and one through single-seat elections). Heritage will have five lawmakers. One seat in the legislature will be held by a non-partisan candidate who managed to win in a single-mandate race.