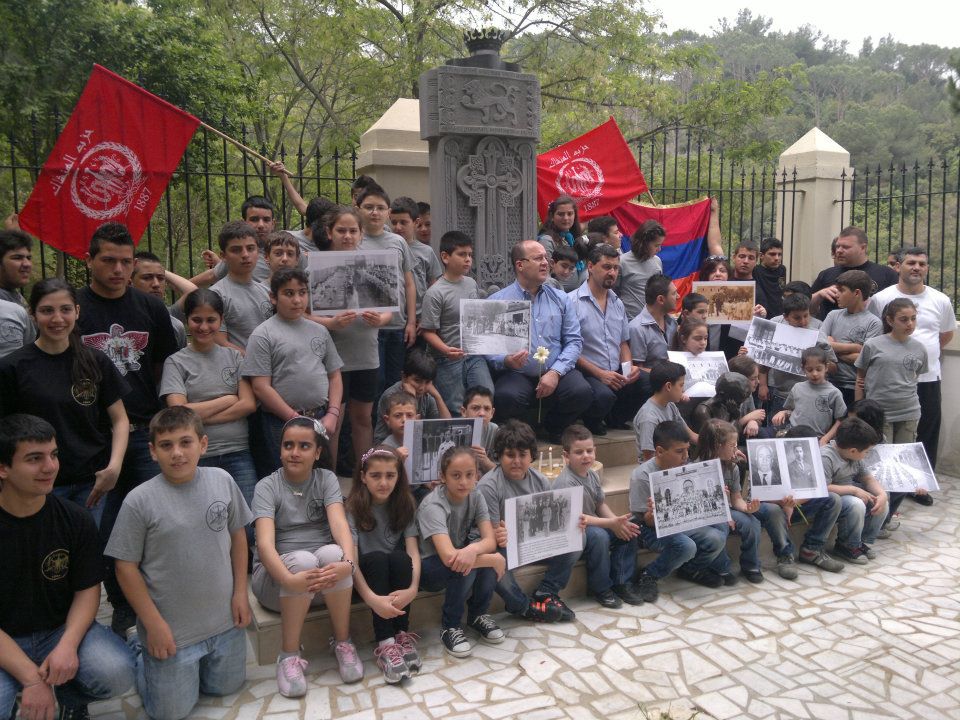 On April 29, 2012, the S.D. Hunchakian "Hayk Bzhishkyan" Youth Association in conjunction with paying their respects to the martyrs of the Armenian Genocide, visited the Visit St. Joseph Antoura French College in Lebanon. During World War I, the college was designated as a Turkish orphanage under the direction of Jemal Pasha and Halide Edib, where about 1,000 Armenian and 200 Kurdish children were forcefully Turkified.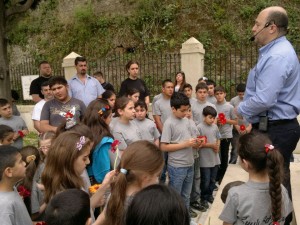 The youth were given a brief history lesson and a tour of the facilities by Mr. Maurice Missak Kelechian, whose research was instrumental in discovering the site's significance to the Armenian Genocide. Under the order of Jemal Pasha and & Khalide Edib Adivar; Turkification of Armenian children was forcefully implemented in the college during the years 1915-18. The college was also the site of a mass grave of Armenian orphans who died as a result of starvation and or illness caused by the perils of the Armenian Genocide.
Addressing those who had gathered at the Khachkar (Cross Stone), and the Bronze statue in memory of Armenian orphans, "Hayk Bzhishkyan" Youth Association members; Lucy Semerjian (in Armenian) and Hagop Keushkerian (in Arabic) reiterated their commitment to the Armenian cause as the next generation of Armenians, ensuring their elders that they will not stop until the Armenian Genocide is recognized and that they will continue to raise people's awareness towards the Armenian Cause.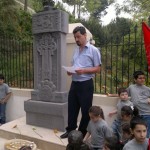 Addressing the youth, Mr. Vatche Poladian; Chairman of the SDHP "Hayk Bzhishkyan" Youth Association's Mentorship Committee, stated the importance of Armenian youth to realize their history in direct correlation to their present lives, to never give up the Armenian Cause, and to always stand up against repression and aggression.