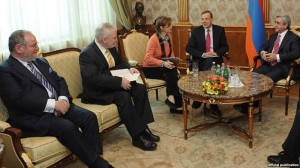 STEPANAKERT — International mediators have toured the Nagorno-Karabakh conflict zone amid continuing deadly skirmishes between Armenian and Azerbaijani forces that left two Azerbaijani soldiers dead at the weekend.
The U.S., Russian and French diplomats co-chairing the OSCE Minsk Group held talks in Yerevan on Friday, proceeded to Karabakh on Saturday and were due to arrive in Baku on Monday.
Official sources in Armenia gave few details of their meetings with President Serzh Sarkisian and Foreign Minister Nalbandian. In a statement, the Armenian Foreign Ministry said they discussed ways of implementing understandings reached by Armenia's and Azerbaijan's presidents at their last meeting hosted by their Russian counterpart Dmitry Medvedev in Sochi in late January.
The statement quoted Nalbandian as complaining about recent statements by Azerbaijani leaders which he said "run counter to the agreements reached at Sochi." It did not elaborate.
The mediators discussed the issue with Karabakh President Bako Sahakian in Stepanakert on Saturday. But they gave no details of that discussion.
"We also discussed the situation on the Line of Contact," Robert Bradtke, the U.S. co-chair, told reporters in the Karabakh capital.
Later on Saturday the Azerbaijani Defense Ministry reported that two of its soldiers were shot dead overnight at the westernmost section of Azerbaijan's long border with Armenia. It said Azerbaijani troops stationed there came under intense automatic gunfire from Armenian army positions.
The Ministry of Defense of Armenia doid not refute that the deaths of two Azeri soldiers on the Armenian-Azeri border were possibly from Armenian fire; however, the ministry representatives said that "exclusively the Azeri side is responsible for the soldiers' death."
The Armenian Defense Ministry blamed the Azerbaijani side for the incident. "The ceasefire regime is always violated by the Azerbaijani side," the Regnum news agency quoted ministry spokesman Davit Karapetian as saying.
The Armenian-Azerbaijani truce violations appear to have been the main focus of the mediators' activities in recent months, reflecting their concerns about the possible resumption of large-scale hostilities and the parties' lingering differences on the basic principles of Karabakh peace.