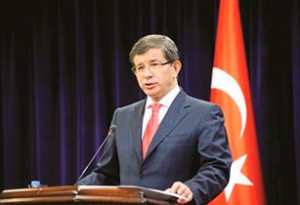 ANKARA — Turkey is ready to share the pain of Armenians ahead of the 100th anniversary of the 1915 Armenian massacres in the Ottoman Empire, Turkish Foreign Minister Ahmet Davutoglu reportedly said late on Tuesday.
"We want to share the pain of those who are ready to share it with us," Davutoglu was quoted as saying by Anatolia news agency in an interview with state-run television TRT Haber.
"It is necessary to keep channels open in order to share history," he said in remarks cited by the AFP news agency.
His remarks came after France's Constitutional Council struck down a government-backed law criminalizing denials of the 1915 events as genocide on the grounds that it contradicts the French constitution and violated freedom of expression; the council's rejection was quickly welcomed by Turkey.
"If third countries intervene into this issue, it will be a mistake; it will not help," he said, adding that the problem would only become deadlocked otherwise.
Davutoglu did not say if Ankara could eventually acknowledge that some 1.5 million Ottoman Armenians were massacred during World War I in the first genocide of the 20th century.
Successive Turkish governments have for decades insisted that Armenians died in much smaller numbers and as a result of civil strife, rather than a premeditated government policy. Some Turkish leaders, notably Prime Minister Recep Tayyip Erdogan, have said that it was Armenians who massacred Turks.